Alabama

Arizona

Kingman, AZ

Phoenix, AZ

Tucson, AZ

Arkansas

Conway, AR

West Memphis, AR

California

Bakersfield, CA

Fillmore, CA

Fresno, CA

Gilroy, CA

Lakeside, CA

Live Oak, CA

Lodi, CA

Petaluma, CA

Redlands, CA

Santa Maria, CA

Colorado

Colorado Springs, CO

Denver, CO

Fort Collins, CO

Grand Junction, CO

Florida

Georgia

Idaho

Idaho Falls, ID

Nampa, ID

Post Falls, ID

Twin Falls, ID

Indiana

Iowa

Kansas

Kentucky

Louisiana

Minnesota

Missouri

Blue Springs, MO

Saint Louis, MO

Springfield, MO

Montana

Nebraska

Nevada

New Mexico

North Carolina

Ohio

Akron, OH

Cincinnati, OH

Columbus, OH

Oklahoma

Oklahoma City, OK

Tulsa, OK

Oregon

Eugene, OR

Medford, OR

Pendleton, OR

Portland, OR

Redmond, OR

Salem, OR

Pennsylvania

Hershey, PA

Morgantown, PA

Pittsburgh North, PA

Tennessee

Bristol, TN

Chattanooga, TN

Lebanon, TN

Texas

Beaumont, TX

College Station, TX

El Paso, TX

Ft Worth, TX

Houston, TX

Killeen, TX

San Marcos, TX

Utah

Virginia

Norfolk, VA

Roanoke, VA

Warrenton, VA

Washington

Chehalis, WA

Marysville, WA

Tacoma, WA

West Virginia

Wisconsin

Appleton, WI

Milwaukee, WI

Wyoming
Trailer repairs are an essential part of operating safely and properly when on the road. A model that's in good condition can haul more and maintain the safety standards you'd expect on the open road.
Your local TrailersPlus location has an on-site service center where you can visit for any repairs that your trailer may need throughout its life. We have locations across the country, so we're here to help no matter where you are when you need a repair.
Trailer Service Center
Our service centers are equipped to repair a variety of models, from enclosed cargo to dump trailers. We have factory-trained and certified technicians on-site who have the right tools and training to perform all needed repairs correctly and efficiently. Our technicians specialize in a combination of repair, maintenance, and customization services, so you can visit us regardless of your model's needs.
A selection of repair services includes:
● Electrical repair
● Floor, wall, and roof repair
● Suspension repair
● Tire replacement
If you're unsure of the repairs that your trailer may need, our technicians can assess it and make repair recommendations based on their findings.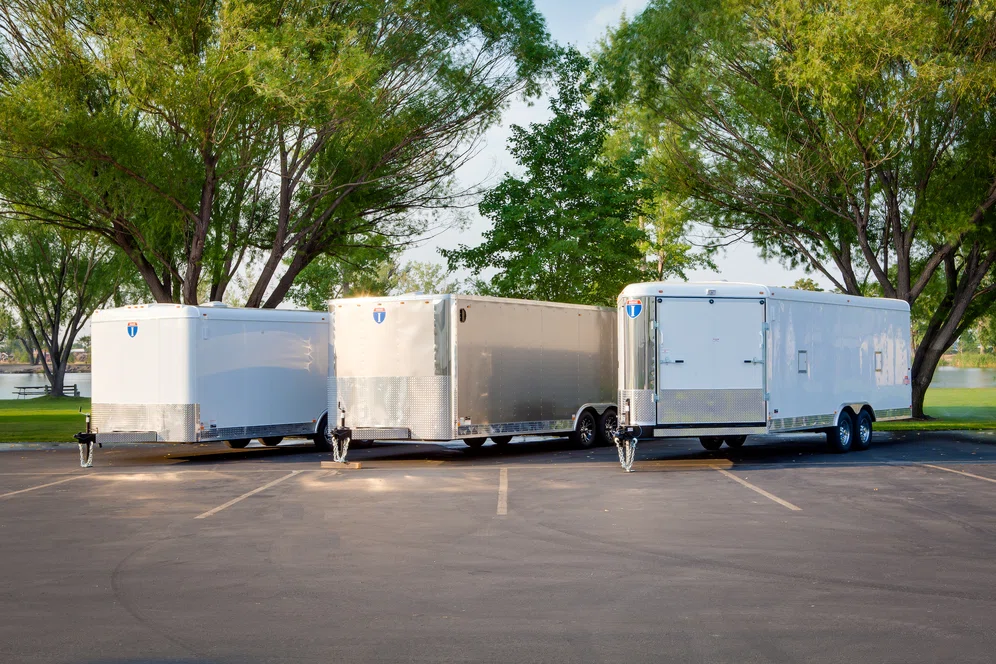 Trailer Parts and Accessories
Our service center has an inventory of parts and accessories that our technicians can use to repair and maintain your trailer. These parts and accessories range from e-track and lights to cargo management systems and security locks.
If you're interested in customizing your model after repairs are complete, you can shop for all the parts and accessories you may need on our website or in person. We have experts on-site who can answer your questions and make recommendations based on your needs.
Certified Trailer Inspections
In order to ensure that your unit has no hidden damage and remains safe on the road, trailers should regularly get their units inspected. Our service center offers certified inspections with 40 points of inspection.
When you purchase a trailer from one of our locations, you'll receive a 12-month and 24-month inspection for free, helping you stay on top of its maintenance and repair needs.
Schedule Your Trailer Repairs Today
If your trailer is in need of repairs, schedule those repairs at your local TrailersPlus service center. Our highly experienced technicians can care for your towing companion and help you get back on the road as soon as possible.
Scheduling service is simple. Use our online scheduling tool or give your local service location a call today.
Trailer Service near Blue Springs MO
Trailer Service near Morgantown WV
Trailer Repair Shop near Morgantown WV
Trailer Repair Shop near Ogden UT
Learn more about trailer service!