Alabama

Arizona

Kingman, AZ

Phoenix, AZ

Tucson, AZ

Arkansas

Conway, AR

West Memphis, AR

California

Bakersfield, CA

Fillmore, CA

Fresno, CA

Gilroy, CA

Lakeside, CA

Live Oak, CA

Lodi, CA

Petaluma, CA

Redlands, CA

Santa Maria, CA

Colorado

Colorado Springs, CO

Denver, CO

Fort Collins, CO

Grand Junction, CO

Florida

Georgia

Idaho

Idaho Falls, ID

Nampa, ID

Post Falls, ID

Twin Falls, ID

Indiana

Iowa

Kansas

Kentucky

Louisiana

Minnesota

Missouri

Blue Springs, MO

Saint Louis, MO

Springfield, MO

Montana

Nebraska

Nevada

New Mexico

North Carolina

Ohio

Akron, OH

Cincinnati, OH

Columbus, OH

Oklahoma

Oklahoma City, OK

Tulsa, OK

Oregon

Eugene, OR

Medford, OR

Pendleton, OR

Portland, OR

Redmond, OR

Salem, OR

Pennsylvania

Hershey, PA

Morgantown, PA

Pittsburgh North, PA

Tennessee

Bristol, TN

Chattanooga, TN

Lebanon, TN

Texas

Beaumont, TX

College Station, TX

El Paso, TX

Ft Worth, TX

Houston, TX

Killeen, TX

San Marcos, TX

Utah

Virginia

Norfolk, VA

Roanoke, VA

Warrenton, VA

Washington

Chehalis, WA

Marysville, WA

Tacoma, WA

West Virginia

Wisconsin

Appleton, WI

Milwaukee, WI

Wyoming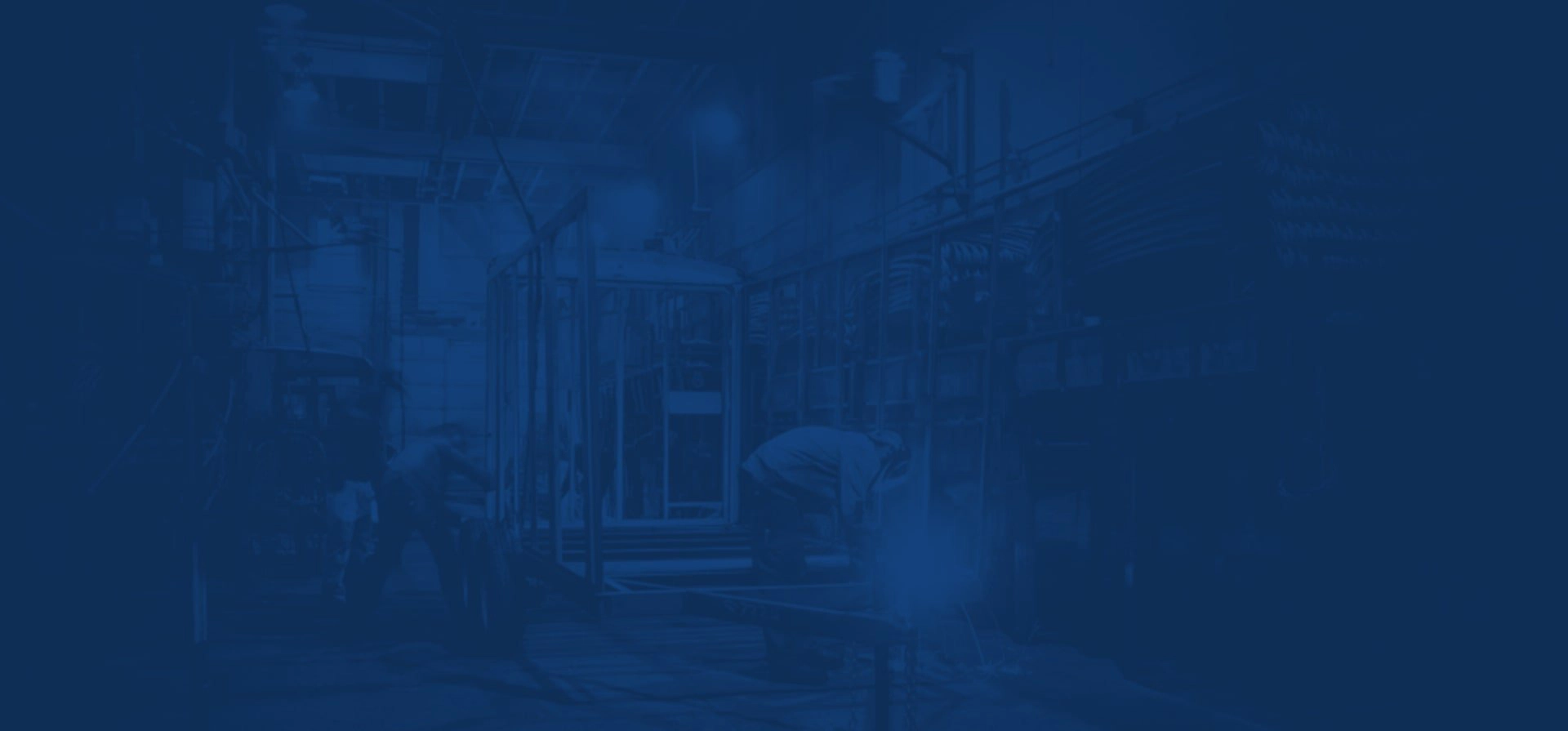 Utility Trailer for Sale near Me
Here at TrailersPlus, we pride ourselves on offering an incredible selection of new utility trailers for sale that are suited for a variety of functions. Whether you're in the professional landscaping business or enjoy tearing up the trails with your ATV, having proper transportation to haul your supplies to your next destination is critical.
That's where we come in. Our locations all offer varying sizes and configurations, from small utility to 7x16 trailers.
Shop For Utility Trailers near Me
Each of our local dealerships boasts an expansive inventory of utility trailers. Through our partnerships with Carry-On Trailer and Interstate, we can offer a wide range of versatile options that maintain the high standard of quality and durability that TrailersPlus is known for.
In addition, each Interstate trailer comes with a minimum 1-year overall warranty from the date of purchase. With this warranty, you can tow with confidence.
Shopping For Your Utility Trailer Online
You can shop in person, online, or via some combination of the two! Those interested in beginning their search online can use our search filters to help narrow our inventory to trailers with the specific features you want.
If you see something you'd like to purchase, reserve it for three days with the click of a button. Drivers who want to view the trailer in person can schedule an appointment via our online scheduler. Our team will work with you during your appointment to help you find the option that's right for you. With an appointment, you can purchase more quickly because you'll have a team member ready and prepared to assist you.
Utility Trailer Features
With over 100 trailers available at each location, we aim to find you the perfect one to drive home with. That's why we offer many configurations, including:
Single Axle
Tandem Axle
Pipe Top
High Sides
Mesh Sides
ATV setups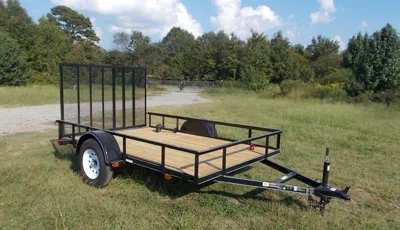 Utility Trailer Flooring Options
Our utility trailers come with various floor options to cater to your preferences. Whether you prefer mesh, wood, or steel, you can drive away with the best trailer that fits your needs.
The right flooring option for your needs may depend on what you plan to haul. Our trailering experts can recommend the best choice for your adventures or work site.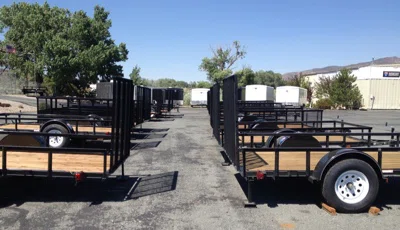 Single or Tandem Axles
When selecting your utility trailer, consider whether you want a single or tandem axle model. Single axles are ideal for lighter loads and smoother terrain. Tandem axles are designed to help you haul more or head off the beaten path.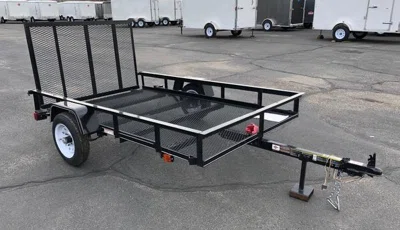 Siding
Hauling brush, mulch, or do you just want more vertical space? We offer 24-inch side extensions so you can be confident that everything you put in your utility trailer will stay there.
Mesh siding is also an option if you prefer more security when hauling cargo.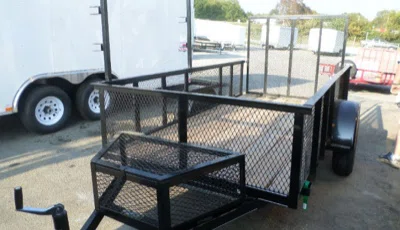 Utility Trailer Upgrades
Do you need more? We offer upgrades to utility trailers, such as tongue boxes. Store your tools, ratchet straps, work gloves, and safety vests in one of our tongue boxes, which come in:
Mesh
Black solid plate
Diamond plate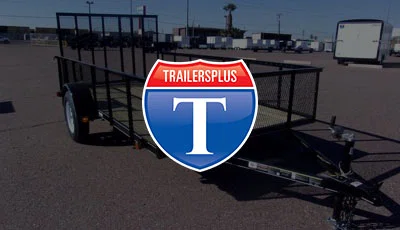 Warranty
All Carry-On utility trailers come with a 1-year material and workmanship warranty. With this warranty, you can drive with confidence, knowing you're covered.
Trailer Sizes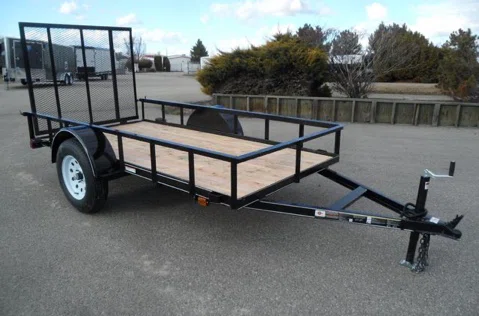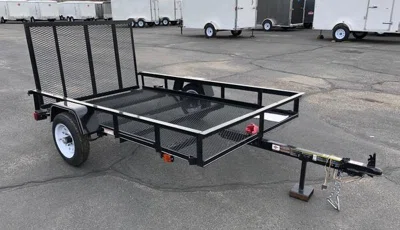 4' & 5' Wide Utility Trailers
The utility trailers in our inventory come in a few size options, ranging from four feet to eight-and-a-half feet in width. In addition to a range of widths, they come in a variety of lengths. This makes it easy to find the perfect tool for the job. Our 4-foot and 5-foot-wide Carry-On utility trailers are designed for hauling ATVs, lawnmowers, scooters, and more. These are perfect for quick and easy transportation, whether for professional or personal reasons.
The sizes offered for these single-axle models include:
• 4x5 • 4x6 • 4x8 • 5x10 • 5x12 • 5x14 • 5.5x8 • 5.5x10 • 5.5x12
SEARCH UTILITY TRAILER INVENTORY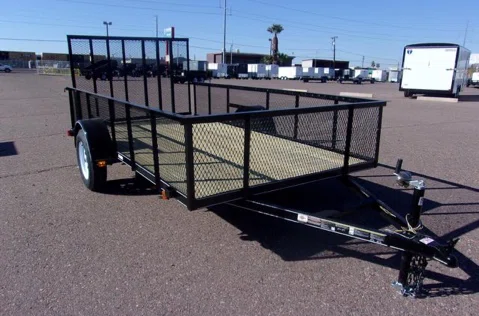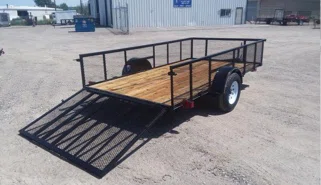 6-Foot-Wide Utility Trailers
Our 6' wide Carry-On utility trailers are designed for both weekend recreation and the workday. These midsize options come with the choice of solid sides, high sides, or pipe tops. This size can accommodate a small landscaping crew, trash relocation, or up to two UTVs.
The 6-foot-wide utility trailer offers sizes such as:
• Single Axle: 6x10, 6x12, 6x12 with side ramp, and 6x14 • Tandem Axle: 6x12, 6x14, 6x16, and 6x18
SEARCH UTILITY TRAILER INVENTORY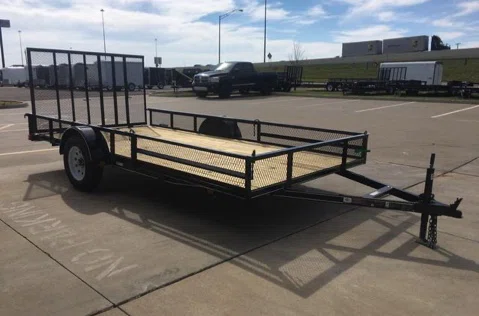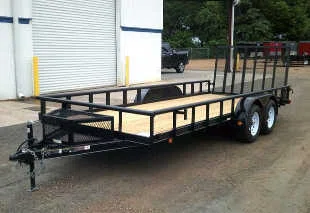 7-Foot-Wide Utility Trailers
Our 7-foot-wide Carry-On utility trailers have the whole crew in mind. These are available for professional and personal use. They can accommodate larger landscaping crews as well as a team of ATV/UTV riders. Their versatility makes them built for any day of the week.
Like other sizing options, the 7-foot-wide utility trailers come in single or tandem axle configurations. The sizes offered include:
• Single Axle: 7x12, 7x12 with side ramp, and 7x14 • Tandem Axle: 7x14, and 7x16
SEARCH UTILITY TRAILER INVENTORY
Purchasing Your Utility Trailer
Once you've chosen the utility trailer or fleet that's right for you, purchase it with cash or credit or sit down with our finance team. Our team will help you complete the purchase process. We'll answer all your questions and provide you with multiple financing options from lenders like:
RockSolid Funding
Sheffield Financial
Local credit unions and banks
Most loans from our lenders allow you to pay off loans early with no penalty, so you can complete your loan early if that is more convenient for you. Begin the purchase or financing process by applying for financing online or scheduling an appointment with our trailer financing experts.
Service and Parts
When your trailer needs repairs or maintenance, come back and see us. We have factory-trained and certified technicians on staff who know how to properly service and care for utility trailers. Our technicians can provide an estimate for any potential maintenance or repairs so you know what to expect.
Common services our technicians perform include:
Electrical Repair
Bearing Replacement
Brake Adjustment
Are you interested in customizing? Visit our parts shop. You can pick what you need, and our team will customize your trailer with the parts, accessories, and cargo management systems you want.
For your convenience, you can shop for the parts you need and order them online. Our website also allows for online scheduling of service appointments. If you have questions about the parts or services your utility trailer needs, our team is only a phone call away.
Start Shopping For Your Next Utility Trailer Today
Are you ready to find your next utility trailer? Check out our website to explore the current inventory at your local TrailersPlus. When you've found a trailer or two that you're interested in, schedule an appointment.
We look forward to helping you tow for work or play. We'll walk you through the purchase process and help you care for your trailer throughout its time on the road. Let's get started!
For over 20 years, TrailersPlus has been dedicated to providing premier trailers, parts and services nationwide.
For over 20 years, TrailersPlus has been dedicated to providing premier trailers, parts and services nationwide. We have 81 locations across the country. offering the largest selection and 100 trailers at every store. We focus on delivering the highest quality trailers and the best customer service in industry.
Why Wait? Text 5408893533 or Chat With Us Now