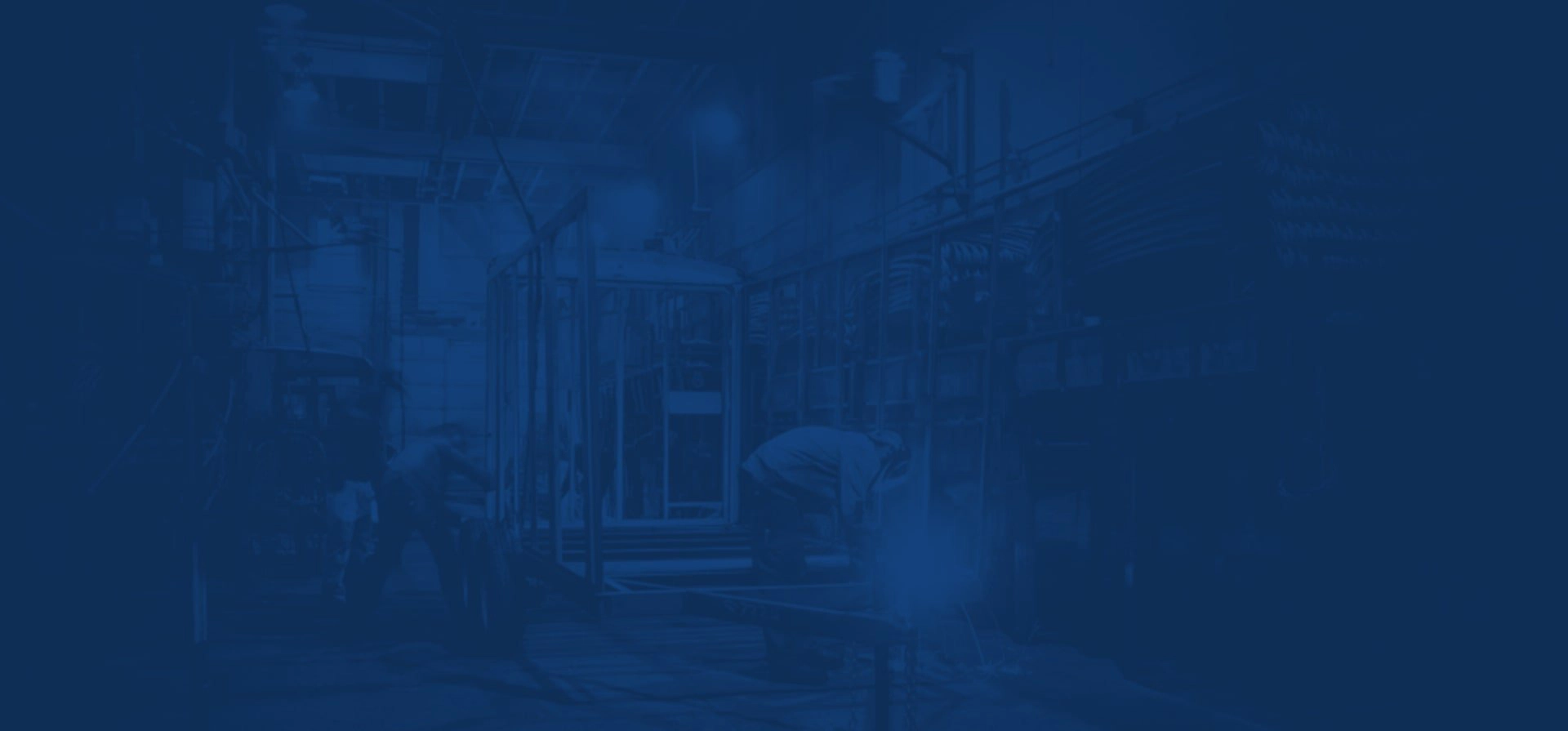 Utility Trailers for Sale at TrailersPlus
Here at TrailersPlus, we pride ourselves on offering an incredible selection of new utility trailers for sale that are suited for a variety of functions. Whether you're in the professional landscaping business or enjoy tearing up the trails with your ATV on a regular basis, having proper transportation to haul your supplies to your next destination is critical. That's where our utility trailers come in. We offer trailers of all sizes and configurations, from small utility trailers to 7x12 trailers. Come by one of our nearby trailer dealers today to find the new utility trailer that perfectly matches your needs.
Interstate Cargo Trailer Sales near Me
Each Interstate cargo trailer is built like a tank, featuring an exclusive DuraFrame™ design made with the highest gauge American steel. Our enclosed cargo trailers are structurally fortified in all the right places, and they even come with a no-leak warranty to grant you complete peace of mind. We offer Carry-On Patriot trailers as well as three distinct Interstate trailer models: Patriot, Victory, Loadrunner and Pro Series. Each of these enclosed trailers for sale is built to meet the stringent TrailersPlus specifications, ensuring quality, durability and strength. Review Victory trailer specs and Loadrunner cargo trailer features now.
Compare Enclosed Trailer Sizes & Types
Whether you're looking for a reliable worksite partner or are planning your next adventure, we have an enclosed cargo trailer for you. We can help you compare cargo trailer sizes and find the small enclosed trailer for sale that best meets your needs. We offer a variety of models and types, from Snowsport and Allsport trailers to enclosed car haulers and more. Plus, you can even order a custom trailer and design it to check every box on your list. Book an appointment at your local TrailersPlus today to browse our 4x6 cargo trailers and 6x10 enclosed trailers for sale.
Enclosed Cargo Trailer Prices
Ready to buy a new Patriot or Victory trailer nearby? Reach out to the TrailersPlus team to go over trailer price options. We offer competitive trailer financing, so buying the enclosed cargo trailer you need is easy when you shop with us. We look forward to hearing from you soon!
Features of Interstate Victory, LoadRunner, and Pro Series Trailers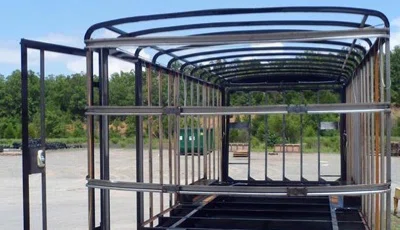 DuraFrame™ Design
Our exclusive DuraFrame™ design means your Interstate cargo trailer is built to last. Interstate uses only the highest gauge American steel, and we don't take shortcuts when it comes to construction. The tongue frame passes through the chassis and is welded to the main rails for superior strength.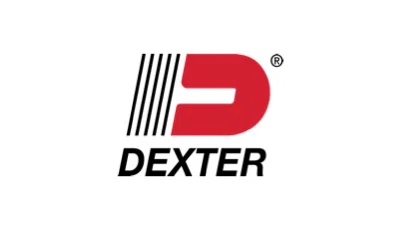 Dexter Axles
Interstate trailers are built with American-Made Dexter Axles, the quality leader in the Industry for over 50 years. Our trailers are constructed with either heavy duty leaf spring axles or rubber-dampened torsion axles that provide independent wheel suspension and superior handling.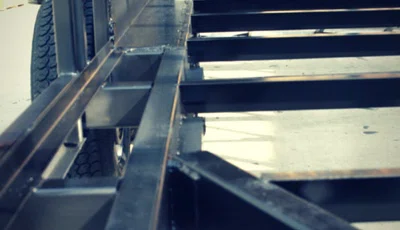 I-Beams
From our sturdy steel-framed door openings to the strength-reinforcing gussets on our corner posts, our I-beams are made from the same steel American skyscrapers are built with. Structurally fortified in all the right places, Interstate's frame strength is unmatched.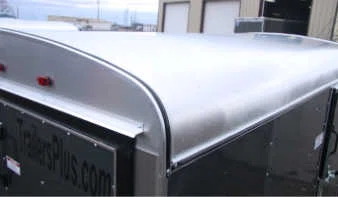 One-Piece Aluminum Roof
We utilize a one-piece aluminum roof with Quadra-Sealed™ four-layer roof seams that keep moisture out, ensuring that your cargo stays dry. With an internal roof liner that prevents roof vibration and wear, as well as formed steel internal frames and welded ridge reinforcements, the roof of an Interstate trailer is as strong as the rest of the trailer.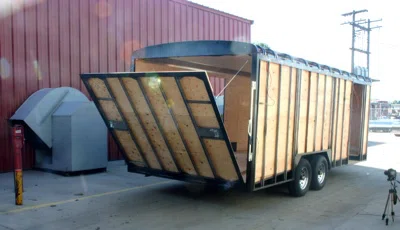 Commercial Strength Floor and Walls
Interstate's doors and ramps feature heavy duty welded hinges. Most manufacturers use lower-grade bolts and straps that bend and sag over time. Interstate's steel door frame can't be bent. And with ramps rated from 2,500 to 4,000 pounds that are fortified with steel gussets and three-piece welded hinges, Interstate trailers can handle the heaviest cargo.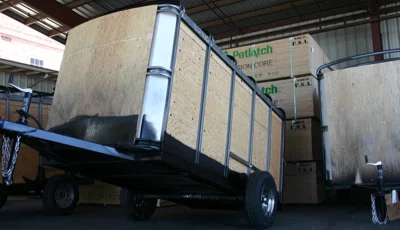 Sealed Flooring System
The steel chassis are protected by automotive-grade paint, and all-weather protective undercoating comes standard on all Interstate models. With ¾" thick exterior grade plywood from northwest grown Douglas Fir, our floors are solid, and the seams are completely sealed to keep moisture out.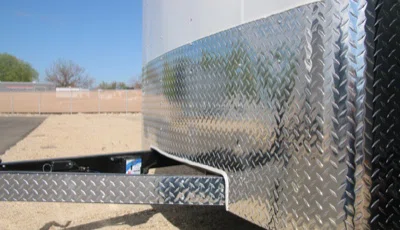 Diamond Plate Stone Guard
The Interstate brand delivers quality and durability. That's why we install diamond plate stone guards on all our Interstate cargo trailers, preventing rock chips and ensuring your trailer stays in showroom condition for the years to come. On top of that, diamond plate stone guards increase your trailer's curb appeal.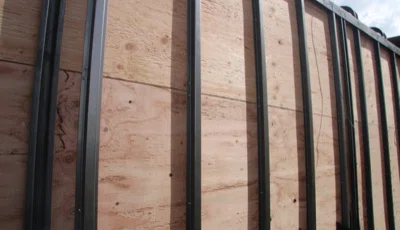 Hat-bow Stud Design
We utilize a hat-bow vertical stud design to give your trailer increased strength and the best resistance to flexion. As opposed to a tube beam design, a hat-bow stud design provides a larger contact surface area. More surface area contact gives you a sturdier trailer leading to a longer life and safer driving.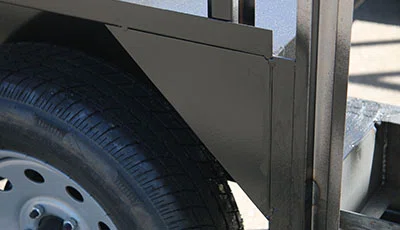 Gussets
Interstate's added gussets mean your cargo trailer is built to last. These reinforcements add exponential strength to your trailer, resisting flexion and providing a more durable design. We don't take shortcuts when it comes to construction.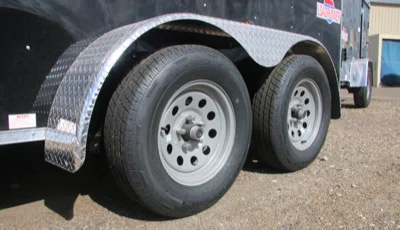 Radial Tires
All Interstate trailers come equipped with radial tires. They provide a longer life and increased fuel mileage when compared to bias ply tires. Not only that, but radial tires are much less prone to blowouts. In line with Interstate's legendary durability, we want our trailers to get you to and from the job with zero hassle and are willing to go the extra mile.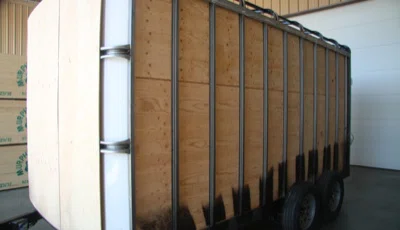 ⅜" Plywood Interior Walls
Every Interstate cargo trailer has ⅜" plywood interior walls to give years of reliable use. Connected to our hat-bow studs and ¾" plywood floor, this is a recipe for a strong and sturdy unit. Install e-track, tie downs, or build shelving. These heavy-duty walls will handle it with ease.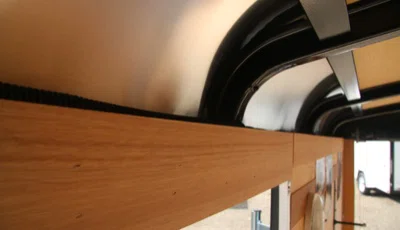 Concealed Wiring
Not only do we provide quality and durability, but we give our trailers curb appeal, too! Why have a perfectly constructed trailer with exposed wiring? We conceal all our trailer's wiring to make our trailers seamless from the outside in.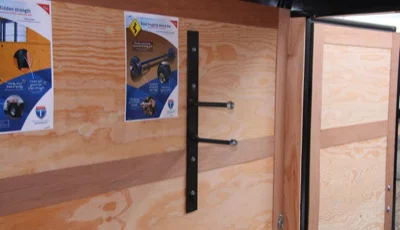 Spare Tire Mount
Don't be caught on the side of the road without a spare tire! We provide a spare tire mount on the right side of the rear door that is easily accessible in any road emergency. We install our spare tire mounts off the floor to keep it from detracting from your precious cargo space.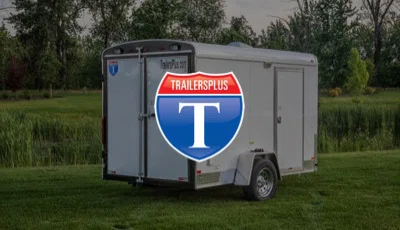 Warranty
ALL Interstate cargo trailers come with a roof and bumper-to-bumper warranty. Our Pro Series trailers have a lifetime roof warranty and a 3-year bumper-to-bumper warranty. We aim to ensure everyone driving an Interstate has a great driving experience. Check the product page for the specific warranty on the trailer you're looking at.
Trailer Sizes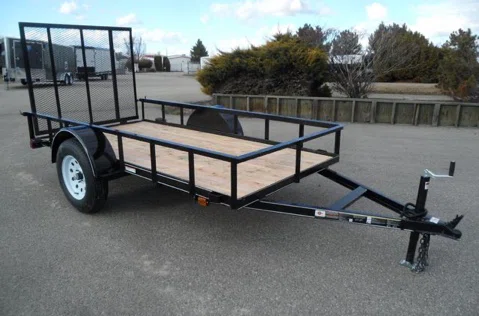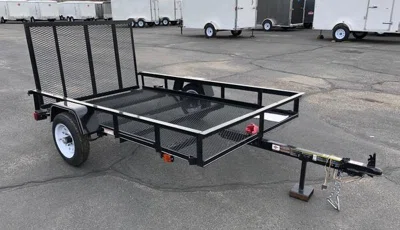 4' & 5' Wide Utility Trailers
Our 4' and 5' wide Carry-On utility trailers are designed for hauling your ATV, lawn mower, scooter, and more. Often used for moving or helping your kids back to college, these trailers are perfect for quick and easy transportation.
Sizes Offered:
Single Axle: 4x5, 4x6, 4x8, 5x10, 5x12, 5x14, 5.5x8, 5.5x10, 5.5x12
Search for 4' and 5' Wide Utility Trailers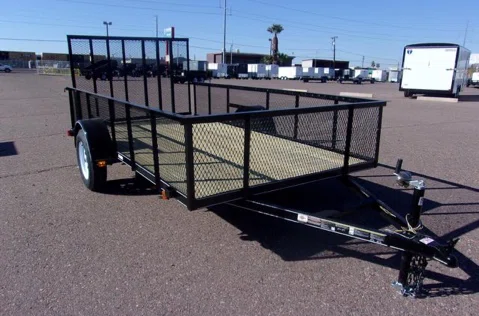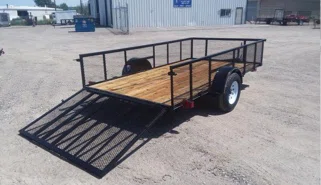 6' Wide Utility Trailers
Do you need to haul your ATV or UTV for the weekend, or are you growing your landscaping crew? Our 6' wide Carry-On utility trailers are designed for both weekend recreation and the workday. With options such as solid sides, high sides, or pipe tops, these trailers can accommodate a small landscaping crew, trash relocation, or up to two UTVs.
Sizes Offered:
Single Axle: 6x10, 6x12, 6x12 with side ramp, 6x14 Tandem Axle: 6x12, 6x14, 6x16, 6x18
Search for 6' Wide Utility Trailers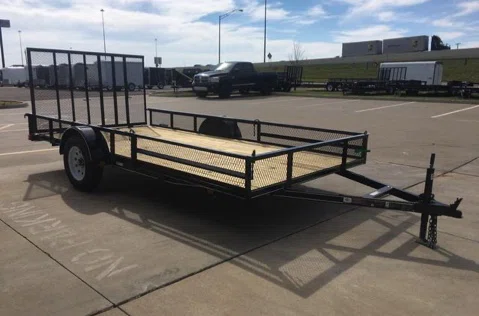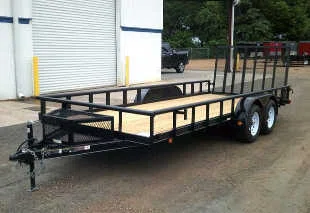 7' Wide Utility Trailers
Our 7' wide Carry-On utility trailers have the whole crew in mind - both for work and play. Able to accommodate larger landscaping crews as well as your team of ATV/UTV riders, these trailers are built with versatility for any day of the week.
Sizes Offered:
Single Axle: 7x12, 7x12 with side ramp, 7x14 Tandem Axle: 7x14, 7x16
Search for 7' Wide Utility Trailers
For over 20 years, TrailersPlus has been dedicated to providing premier trailers, parts and services nationwide.
For over 20 years, TrailersPlus has been dedicated to providing premier trailers, parts and services nationwide. We have 73 locations across the country. offering the largest selection and 100 trailers at every store. We focus on delivering the highest quality trailers and the best customer service in industry.