Alabama

Arizona

Kingman, AZ

Phoenix, AZ

Tucson, AZ

Arkansas

Bryant, AR

Conway, AR

West Memphis, AR

California

Bakersfield, CA

Fillmore, CA

Fresno, CA

Gilroy, CA

Lakeside, CA

Live Oak, CA

Lodi, CA

Petaluma, CA

Redlands, CA

Santa Maria, CA

Colorado

Colorado Springs, CO

Denver, CO

Fort Collins, CO

Grand Junction, CO

Florida

Georgia

Idaho

Idaho Falls, ID

Lewiston, ID

Nampa, ID

Post Falls, ID

Twin Falls, ID

Indiana

Indianapolis, IN

Mooresville, IN

Iowa

Kansas

Kentucky

Louisiana

Minnesota

Missouri

Blue Springs, MO

Saint Louis, MO

Springfield, MO

Montana

Nebraska

Nevada

New Mexico

North Carolina

Ohio

Akron, OH

Cincinnati, OH

Columbus, OH

Oklahoma

Oklahoma City, OK

Tulsa, OK

Oregon

Eugene, OR

Medford, OR

Pendleton, OR

Portland, OR

Redmond, OR

Salem, OR

Pennsylvania

Tennessee

Bristol, TN

Chattanooga, TN

Lebanon, TN

Texas

Beaumont, TX

College Station, TX

El Paso, TX

Ft Worth, TX

Houston, TX

Killeen, TX

San Marcos, TX

Utah

American Fork, UT

Ogden, UT

Virginia

Norfolk, VA

Warrenton, VA

Washington

Chehalis, WA

Marysville, WA

Tacoma, WA

West Virginia

Wisconsin

Wyoming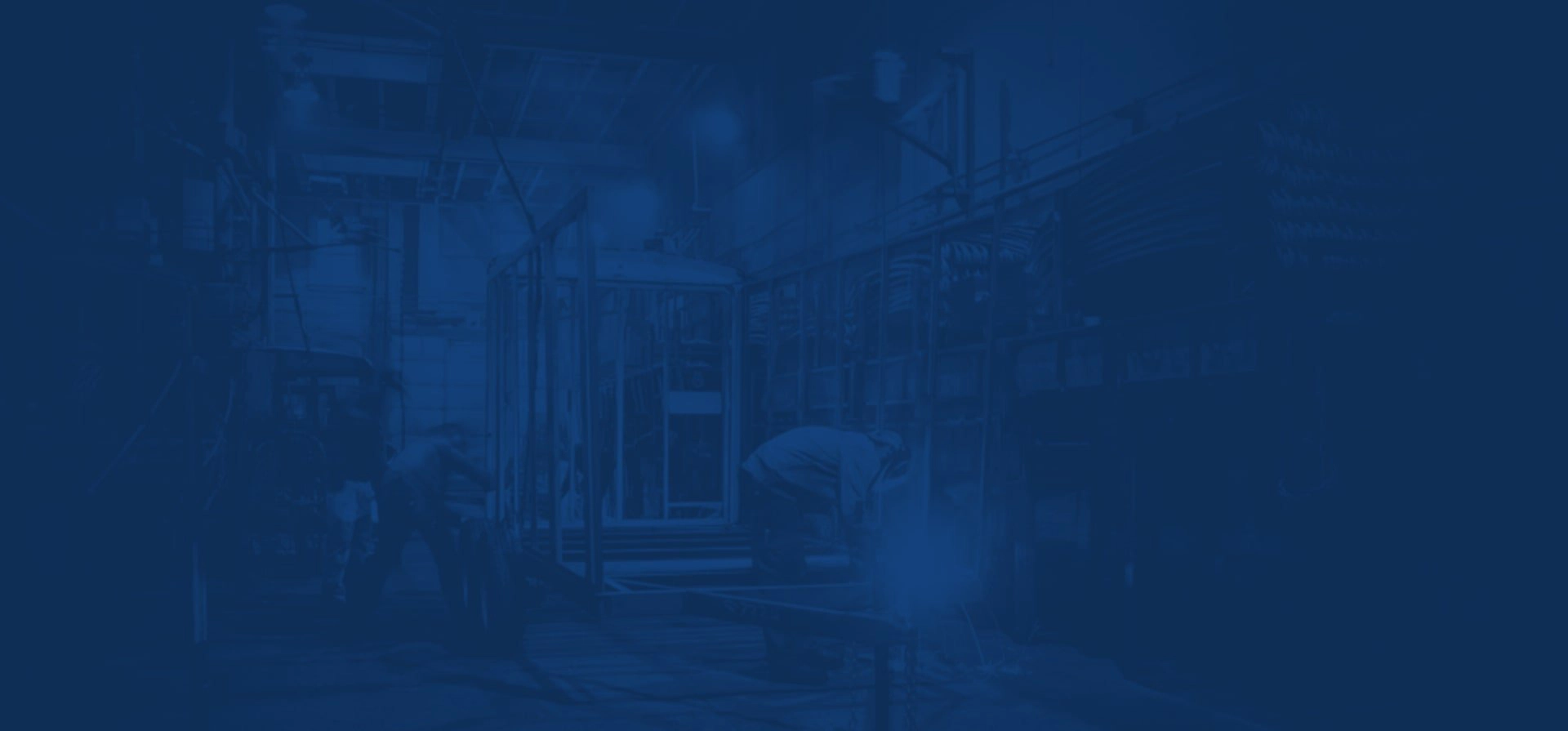 Dump Trailers for Sale at TrailersPlus
Whether you're looking to haul heavy equipment, cargo or debris, a dump trailer is the perfect fit. That's why TrailersPlus is proud to provide a wide selection of bumper pull and gooseneck dump trailers. Available in a variety of sizes, our dump trailers for sale are ideal for everything from small-scale landscaping jobs to large construction sites. Curious about the many reasons you should buy a dump trailer from your local TrailersPlus? Review dump trailer features online, then head to one of our nearby trailer dealerships!
Open vs. Enclosed Car Haulers
TrailersPlus is proud to provide a wide inventory of open and enclosed car haulers that are fit for every need. We partner with Carry-On to deliver open car hauler trailers that are made from high-quality wood or steel and are ideal for running a transportation business. Or, if you tend to spend your weekends at the racetrack or car shows, you may be interested in an enclosed car hauler to transport your vehicle safely, securely and in style. We offer Carry-On Patriot trailers, as well as Interstate Victory, Loadrunner, Pro Series and SuperCoach enclosed car haulers. Ask our team about what makes our Interstate car haulers stand out from the rest, like their DuraFrame™ designs and commercial-strength doors and ramps!
Compare Car Hauler Trailer Sizes
Our enclosed car haulers come in 8.5x16 to 8.5x32 tandem axle configurations. We also have triple axle options available, so be sure to speak with our trailer sales team prior to visiting our lot. Our open car hauler trailers can transport light- to medium-sized vehicles that weigh up to 5,000 pounds, and are available in 7x15, 7x16, 7x18 and 7x20 configurations. Not sure which car transport trailer size is right for you? Our team of experts is here to help!
Enclosed Car Hauler Financing near Me
Ready to buy the Carry-On open car hauler or Interstate enclosed car trailer that best meets your needs? Reach out to the TrailersPlus team to review car hauler price options now. We'll be happy to help you apply for trailer financing nearby and develop a payment plan you're happy with!
Features of Interstate Enclosed Car Haulers for Victory, LoadRunner, Pro Series, and SuperCoach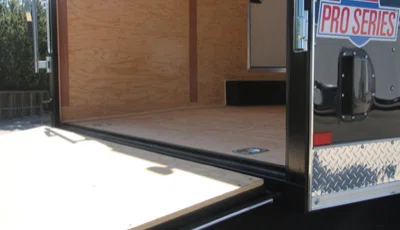 No-Show Beaver Tail
There's no need to watch your head! Our no-show beaver tail tapers in the rear 48" of the trailer to give a taller opening for vehicle entry, as well as decreasing the ramp angle.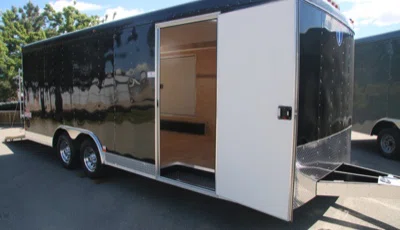 Wider Side Door
The side entry doors on our enclosed car haulers are wider than our standard enclosed cargo trailers. Optioned as a camlock door on the Victory and LoadRunner with 32" and 36" widths and built with an RV door on the Pro Series and SuperCoach with 36" and 48" widths respectively, this entry allows for easy and convenient access to your cargo.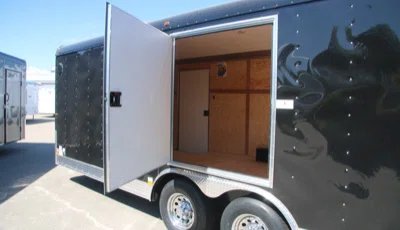 Escape Door
Conveniently located above the road side wheel well, the escape door allows for you to exit your vehicle from inside the trailer and step outside - no more shuffling beside your car to get out of the trailer. Standard on LoadRunner, Pro Series, and Supercoach trailers, the escape door is a must-have for frequent travelers.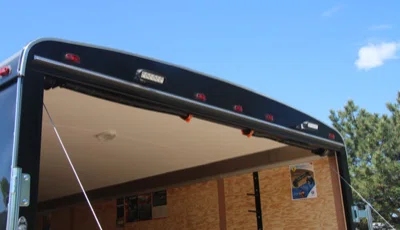 Rear Loading Lights
Two loading lights are installed on the outside rear of the trailer to load up your vehicle on those early mornings or late nights.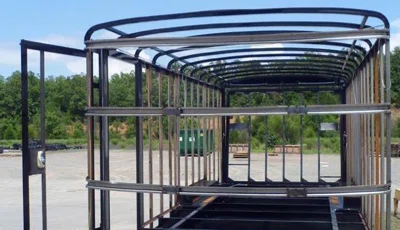 DuraFrame™ Design
Our exclusive DuraFrame™ design means your Interstate cargo trailer is built to last. Interstate uses only the highest gauge American steel, and we don't take shortcuts when it comes to construction. The tongue frame passes through the chassis and is welded to the main rails for superior strength.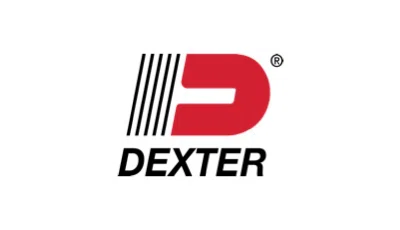 Dexter Axles
Interstate trailers are built with American-Made Dexter Axles, the quality leader in the Industry for over 50 years. Our trailers are constructed with either heavy duty leaf spring axles on the Victory and LoadRunner models or rubber-dampened torsion axles on the Pro Series and SuperCoach models that provide independent wheel suspension and superior handling.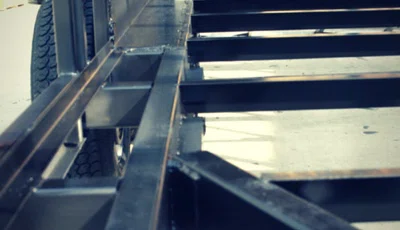 I-Beams
From our sturdy steel-framed door openings to the strength-reinforcing gussets on our corner posts, our I-beams are made from the sale steel American skyscrapers are built with. Structurally fortified in all the right places, Interstate's frame strength is unmatched.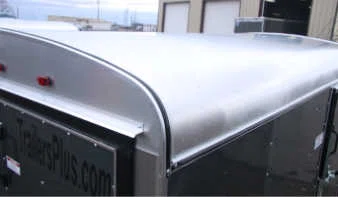 One-Piece Aluminum Roof
We utilize a one-piece aluminum roof with Quadra-Sealed™ four-layer roof seams that keep moisture out, ensuring that your cargo stays dry. With an internal roof liner that prevents roof vibration and wear, as well as formed steel internal frames and welded ridge reinforcements, the roof on an Interstate trailer is as strong as the rest of the trailer.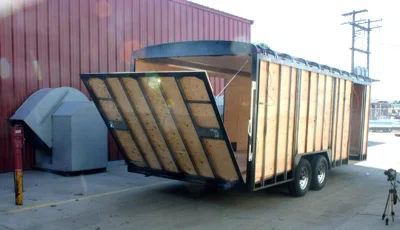 Commercial Strength Doors & Ramps
Interstate's doors and ramps feature heavy duty welded hinges. Most manufacturers use lower-grade bolts and straps that bend and sag over time. Interstate's steel door frame can't be bent. And with ramps rated from 2,500 to 4,000 pounds that are fortified with steel gussets and three-piece welded hinges, Interstate trailers can handle the heaviest cargo.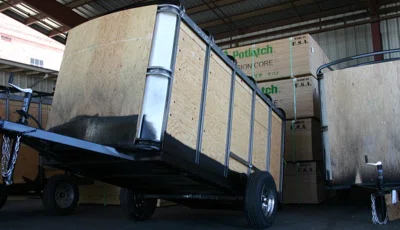 Sealed Flooring System
The steel chassis is protected by automotive-grade paint, and all-weather protective undercoating comes standard on all Interstate models. With ¾" thick exterior grade plywood from northwest grown Douglas Fir, our floors are solid, and the seams are completely sealed to keep moisture out.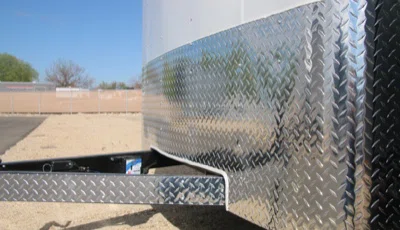 Diamond Plate Stone Guard
The Interstate brand delivers quality and durability. That's why we install diamond plate stone guards on all our Interstate cargo trailers, preventing rock chips and ensuring your trailer stays showroom quality for the years to come. On top of that, diamond plate stone guards increase your trailer's curb appeal.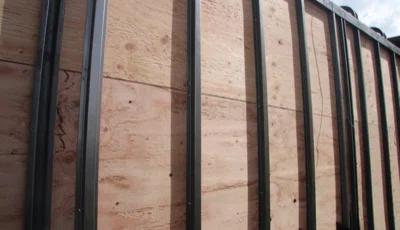 Hat-bow Stud Design
We utilize a hat-bow vertical stud design to give your trailer increased strength and the best resistance to flexion. As opposed to a tube beam design, a hat-bow stud design provides a larger contact surface area. More surface area contact gives you a sturdier trailer leading to a longer life and safer driving.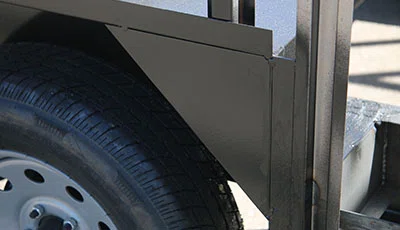 Gussets
Interstate's added gussets mean your cargo trailer is built to last. These reinforcements add exponential strength to your trailer, resisting flexion and providing a more durable design. We don't take shortcuts when it comes to construction.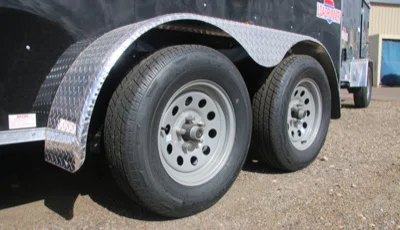 Radial Tires
All Interstate trailers come equipped with radial tires. They provide a longer life and increased fuel mileage when compared to bias ply tires. Not only that, but radial tires are much less prone to blowouts. In line with Interstate's legendary durability, we want our trailers to get you to and from the job with zero hassle and are willing to go the extra mile.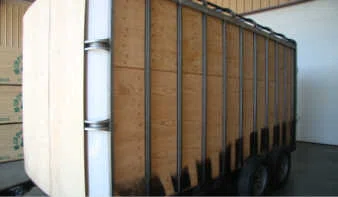 ⅜" Plywood Interior Walls
Every Interstate cargo trailer has ⅜" plywood interior walls to give years of reliable use. Connected to our hat-bow studs and ¾" plywood floor, this is a recipe for a strong and sturdy unit. Install e-track, tie downs, or build shelving. These heavy-duty walls will handle it with ease.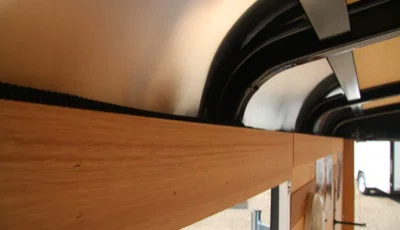 Concealed Wiring
Not only do we provide quality and durability, but we give our trailers curb appeal too! Why have a perfectly constructed trailer with exposed wiring? We conceal all our trailer's wiring to make our trailers seamless from the outside in.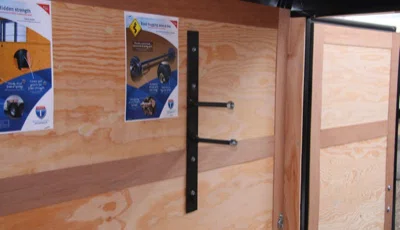 Spare Tire Mount
Don't be caught on the side of the road without a spare tire! We provide a spare tire mount on the right side of the rear door that is easily accessible in any road emergency. We install our spare tire mounts off the floor to keep it from detracting from your precious cargo space.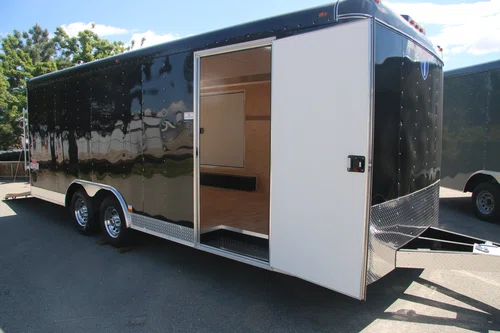 Warranty
ALL Interstate cargo trailers come with a roof and bumper-to-bumper warranty. Our Pro Series trailers have a lifetime roof warranty and a 3-year bumper-to-bumper warranty. We aim to ensure everyone driving an Interstate has a great driving experience. Check the product page for the specific warranty on the trailer you're looking at.
For over 20 years, TrailersPlus has been dedicated to providing premier trailers, parts and services nationwide.
For over 20 years, TrailersPlus has been dedicated to providing premier trailers, parts and services nationwide. We have 73 locations across the country. offering the largest selection and 100 trailers at every store. We focus on delivering the highest quality trailers and the best customer service in industry.
Why Wait? Call Now! 877-850-7587 None