Alabama

Arizona

Kingman, AZ

Phoenix, AZ

Tucson, AZ

Arkansas

Conway, AR

West Memphis, AR

California

Bakersfield, CA

Fillmore, CA

Fresno, CA

Gilroy, CA

Lakeside, CA

Live Oak, CA

Lodi, CA

Petaluma, CA

Redlands, CA

Santa Maria, CA

Colorado

Colorado Springs, CO

Denver, CO

Fort Collins, CO

Grand Junction, CO

Florida

Georgia

Idaho

Idaho Falls, ID

Nampa, ID

Post Falls, ID

Twin Falls, ID

Indiana

Iowa

Kansas

Kentucky

Louisiana

Minnesota

Missouri

Blue Springs, MO

Saint Louis, MO

Springfield, MO

Montana

Nebraska

Nevada

New Mexico

North Carolina

Ohio

Akron, OH

Cincinnati, OH

Columbus, OH

Oklahoma

Oklahoma City, OK

Tulsa, OK

Oregon

Eugene, OR

Medford, OR

Pendleton, OR

Portland, OR

Redmond, OR

Salem, OR

Pennsylvania

Hershey, PA

Morgantown, PA

Pittsburgh North, PA

Tennessee

Bristol, TN

Chattanooga, TN

Lebanon, TN

Texas

Beaumont, TX

College Station, TX

El Paso, TX

Ft Worth, TX

Houston, TX

Killeen, TX

San Marcos, TX

Utah

Virginia

Norfolk, VA

Roanoke, VA

Warrenton, VA

Washington

Chehalis, WA

Marysville, WA

Tacoma, WA

West Virginia

Wisconsin

Appleton, WI

Milwaukee, WI

Wyoming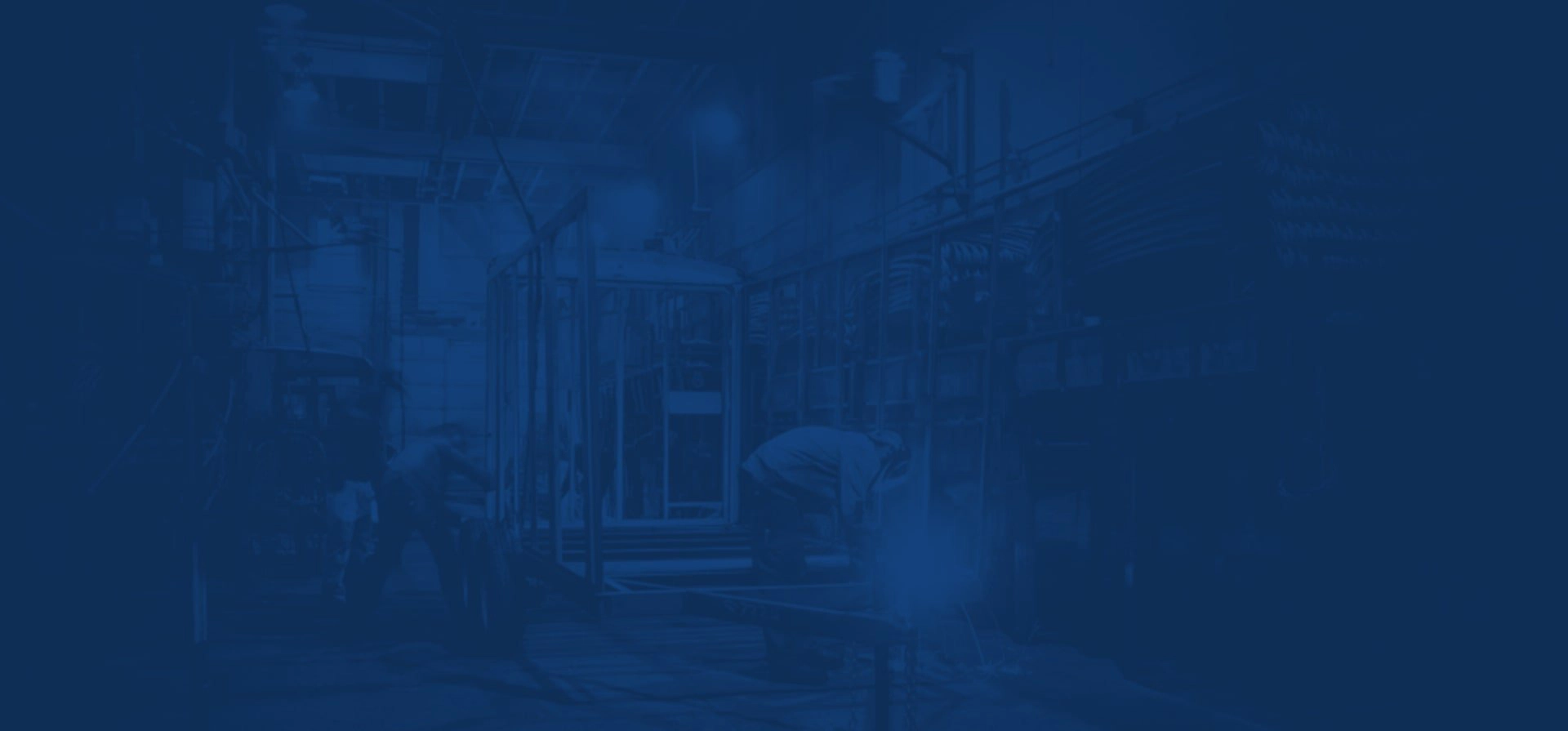 Dump Trailers for Sale at TrailersPlus
A dump trailer may be the right fit if you're looking to haul heavy equipment, cargo, or debris. TrailersPlus is proud to provide a wide selection of bumper pull and gooseneck options. Available in various sizes, our dump trailers for sale are ideal for everything from small-scale landscaping jobs to large construction sites.
Inventory
Our inventory includes Carry-On and Interstate Dump trailers. Every model we sell is built to our strict specifications, maintaining our high standard of quality and durability. Each Interstate model comes with a minimum 1-year overall warranty from the date of purchase.
You can explore our entire inventory on our website, which we keep regularly updated, or in person at one of our stores near you. Our website makes exploring all your options easy, thanks to the online search filters. These filters allow you to narrow your options by:
You can learn more about each model and view photos for a complete virtual look at each model. Hit the Reserve button to reserve a particular dump trailer that meets your needs! While it's reserved, schedule an in-person appointment to view it in person with the help of one of our dedicated experts.
Gooseneck Dump Trailers for Sale near Me
Featuring a long "gooseneck" hitch, these dump trailers offer greater stability and minimize the chance of swaying as you drive. The result? Over 10,000 pounds of hauling capability when properly equipped.
Dump Trailer Features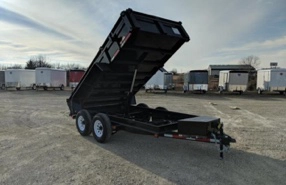 Notable Features
Dump trailers come with a variety of features. We'll explore some of the common features here, so you can decide what features may meet your needs.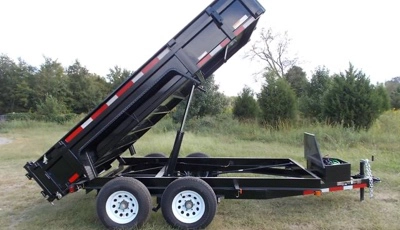 Hydraulic Lift
Many dump trailers in our inventory feature a power-up/power-down hydraulic lift. Featuring a remote function design that lifts up to 40 degrees, the hydraulic lifts on all Carry-On and Interstate models will get your job done.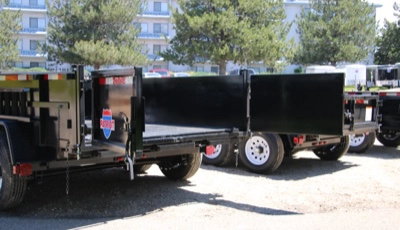 Two- or Three-Way Gate
All Carry-On dump trailers feature a double-door barn gate for easy access to the dump bed. With this gate, you can:
Load Equipment
Unload a Pallet
Dump scrap
The Interstate Gooseneck and Carry-On 7x14 14k are two trailers that feature a three-way gate. The three-way gate can open like a barn door (two-way) or spreader style. Spreader-style openings let the top corners stay fixed while the bottom corners unlatch for spreading gravel or black dirt.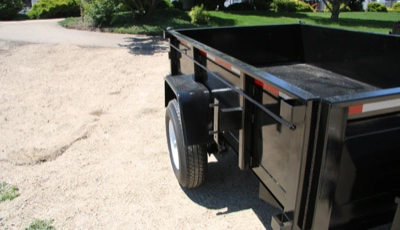 Low Profile 24-inch Sides or High Profile 48-inch Sides
Dump trailers are for more than just hauling material. With low-profile, 24-inch sides or high-profile, 48-inch sides, you can access easy tie-down points. This makes tasks like loading pallets with a forklift more convenient, and it also helps with hauling equipment such as:
Skid Steers
Mini Excavators
We also offer an option for higher sides, adding an extra 24 inches to the side height, which is ideal for hauling brush or roofing scrap.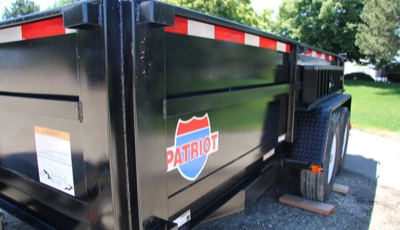 Commercial Strength Floor and Walls
Our dump trailers have the strength to get the job done every time, thanks to heavy gauge steel for its floor and walls. The increased resistance to warping and damage allows them to stand the test of time.
The Carry-On dump trailer walls and floor are made with 14-gauge and 11-gauge steel. The Interstate walls and floor are constructed with 10-gauge steel.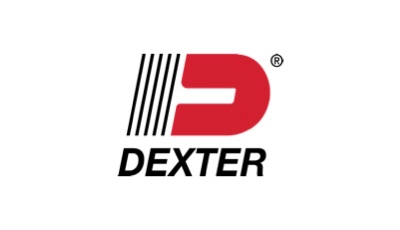 Dexter Spring Axles
All of our dump trailers are built with American-Made Dexter Axles. and are constructed with heavy-duty leaf springs that provide superior durability and handling.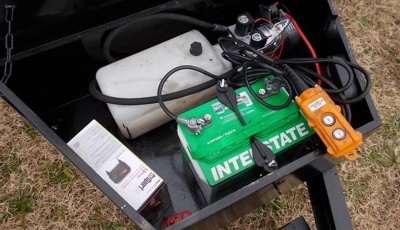 Interstate Deep Cycle Battery
Our dump trailers use Interstate Deep Cycle batteries which are reusable. When the battery is depleted, you can charge it again for future use.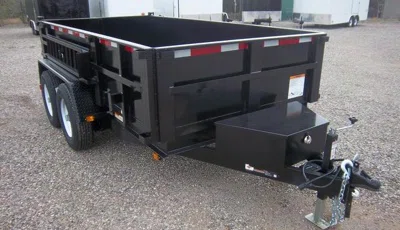 Hydraulic Unit in Sealed Steel Compartment
The controls and battery for the dump bed's hydraulic unit are in a sealed steel compartment at the front. This provides cover from the elements and gives you extra storage space for gloves and safety vests elsewhere in the trailer.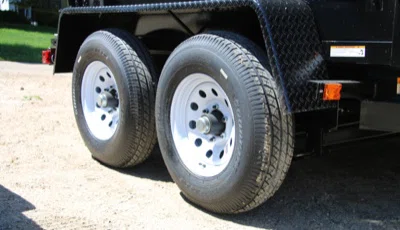 Radial Tires
Our 12k, 14k, and gooseneck dump trailers come equipped with radial tires. Radial tires provide longer life and better fuel economy than bias-ply tires. On top of that, radial tires are much less prone to blowouts, making them a great choice on roads under construction or with uneven pavement.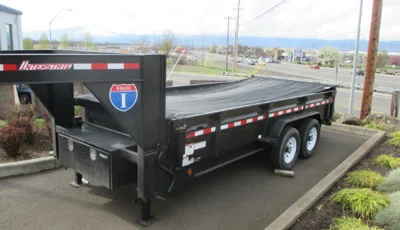 Dump Tarp Accessory
Dump tarps are an accessory available for all our dump trailers and are standard with Interstate dump trailers. Some states require dump tarps because they prevent debris from falling out of your trailer and damaging the vehicle behind you.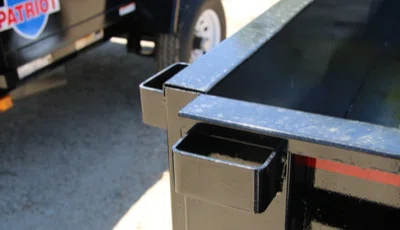 Stake Pockets
All our dump trailers have welded stake pockets on either side of the bed. Whether you want to build your own high-sides for hauling brush and roofing scrap or use them as extra tie-down points, the included stake pockets are standard for your convenience.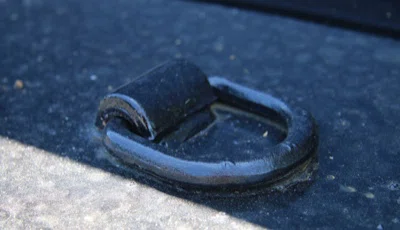 D-Rings
Secure your equipment in 6x12 12k, 7x14 14k, and gooseneck dump trailer models with pre-mounted D-rings. D-Rings help you maintain DOT compliance and allow you to secure cargo on the go, including:
Skid Steer
Mini Excavator
Pallets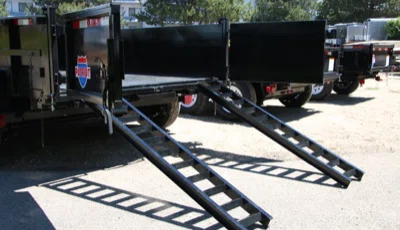 Ramps
Commercial-grade steel ramps are included with our 6x12 12k, 7x14 14k, and gooseneck dump trailers. These ramps are ready to tackle all your equipment loading needs. Securely store ramps underneath the rear, and then they are available when you need them and hidden when you don't.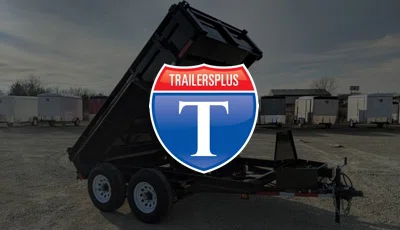 Warranty
Our Interstate and Carry-On models come with a 1-year limited warranty.
Dump Trailer Purchasing and Financing
When you've found the dump trailer you need, our team can help with the purchase or finance process. Our financing experts will work with lenders such as RockSolid Funding and Sheffield Financial, as well as local lenders, in order to provide a variety of financing options. You can choose which is best for you and get on the road.
If you have questions about the purchase or financing process, our team is available to answer them. You can apply for financing online or in person at one of our TrailersPlus locations.
Service and Parts
Regular maintenance or repairs are crucial to keeping your dump trailer in good condition over time. Each purchase comes with two free inspections to help you ensure your dump trailer gets the service it needs. You can also receive an estimate on the maintenance or repairs you might need before we perform any service.
Our technicians are trained to service trailers and have the correct tools to complete the job. We can also install additional parts or accessories.
Our parts center has many parts and accessories available for purchase. Select the tie-downs or fenders your dump trailer needs. You can browse our available parts online or meet with one of our trailer experts at a TrailersPlus location.
Shop For Your Dump Trailer Today
For over 20 years, TrailersPlus has been dedicated to providing premier dump trailers, parts, and services nationwide. We have 80 locations nationwide and offer an extensive selection of over 100 trailers available at each store.
Begin your search by exploring our inventory and scheduling an appointment online today.
Dump Trailer for Sale near Nampa, ID
For over 20 years, TrailersPlus has been dedicated to providing premier trailers, parts and services nationwide.
For over 20 years, TrailersPlus has been dedicated to providing premier trailers, parts and services nationwide. We have 81 locations across the country. offering the largest selection and 100 trailers at every store. We focus on delivering the highest quality trailers and the best customer service in industry.
Why Wait? Text 5408893533 or Chat With Us Now!