Alabama

Arizona

Kingman, AZ

Phoenix, AZ

Tucson, AZ

Arkansas

Bryant, AR

Conway, AR

West Memphis, AR

California

Bakersfield, CA

Fillmore, CA

Fresno, CA

Gilroy, CA

Lakeside, CA

Live Oak, CA

Lodi, CA

Petaluma, CA

Redlands, CA

Santa Maria, CA

Colorado

Colorado Springs, CO

Denver, CO

Fort Collins, CO

Grand Junction, CO

Florida

Georgia

Idaho

Idaho Falls, ID

Lewiston, ID

Nampa, ID

Post Falls, ID

Twin Falls, ID

Indiana

Indianapolis, IN

Mooresville, IN

Iowa

Kansas

Kentucky

Louisiana

Minnesota

Missouri

Blue Springs, MO

Saint Louis, MO

Springfield, MO

Montana

Nebraska

Nevada

New Mexico

North Carolina

Ohio

Akron, OH

Cincinnati, OH

Columbus, OH

Oklahoma

Oklahoma City, OK

Tulsa, OK

Oregon

Eugene, OR

Medford, OR

Pendleton, OR

Portland, OR

Redmond, OR

Salem, OR

Pennsylvania

Tennessee

Bristol, TN

Chattanooga, TN

Lebanon, TN

Texas

Beaumont, TX

College Station, TX

El Paso, TX

Ft Worth, TX

Houston, TX

Killeen, TX

San Marcos, TX

Utah

Virginia

Norfolk, VA

Roanoke, VA

Warrenton, VA

Washington

Chehalis, WA

Marysville, WA

Tacoma, WA

West Virginia

Wisconsin

Wyoming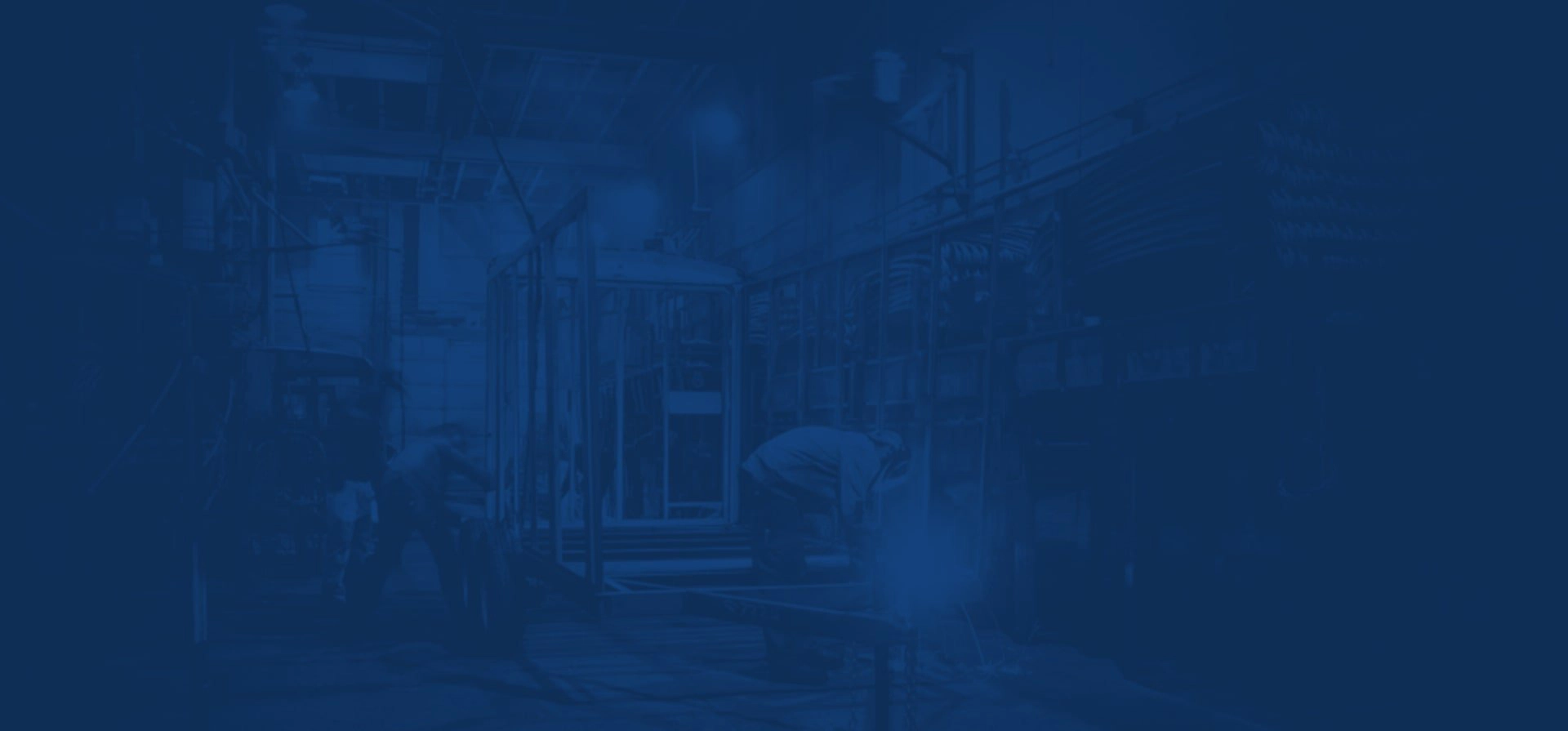 Tilt Trailers for Sale at TrailersPlus
Tilt trailers are widely known for the ease of loading and unloading they provide when you haul equipment. Taking a tractor, ATV, or any other utility vehicle with you has never been easier, thanks to well-tuned hydraulic cylinders that lift and lower your equipment. Our tilt trailers are also great at handling standard cargo transports as well.
Tilt Trailer Specifications & Features
At Trailersplus, we offer a wide range of tilt trailers for sale, and we're sure there's one that suits your needs. At our smallest, we have a 6.5x10 ft single axle tilt trailer which is an excellent option for smaller utility vehicles such as mowers, ATVs, and even golf carts. Despite being the smallest size, these trailers will be more than sufficient for any of these listed items. We also offer a bigger, mid-range size (7x16 ft) that is awesome for those same items if you want a bit more space. If you're looking to move a small vehicle, though, our largest tandem axle tilt trailers come in at 7x22 ft and are sure to get your larger haul to its destination safely.
Tilt Trailers For Sale Near Me
No matter your needs, your nearby Trailersplus dealership will surely have what you need when you are looking for a tilt trailer for sale. Our trailers are sturdy and reliable, so you don't need to worry about your equipment or vehicle being damaged. Your local TrailersPlus dealership also can provide you with the financing options you might need to pay for your new tilt trailer. Schedule an appointment to speak with our knowledgeable team and get help deciding on the trailer you need.
Tilt Trailer Features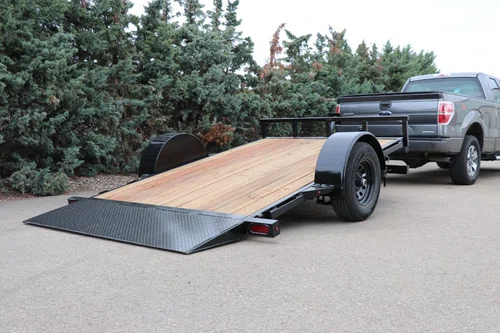 Low Approach Angle
Interstate tilt trailers are equipped with a low approach angle at 11°-12° to take on your lowest clearance loads.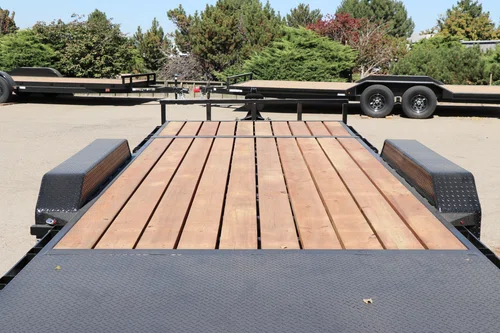 Commercial Strength Wood Deck
All of our tilt trailers come with a commercial strength wood deck, suited for the toughest jobs. Our durability across all trailers is unmatche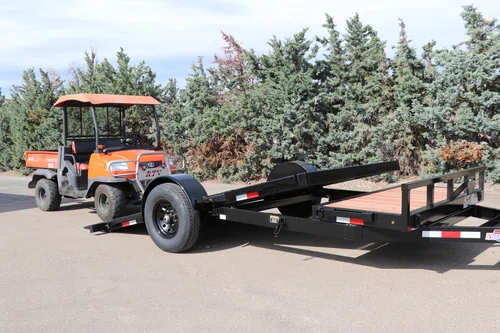 Variety of Sizes for All Jobs
We offer a family of tilt trailers ranging from a 6.5x10 single axle with a 5200lb GVWR to a 7x22 tandem axle with a 14k GVWR. This range of tilts gives you the option to choose the best size for the job at hand.
Single Axle Tilt Trailer Sizes
Tandem Axle Tilt Trailer Sizes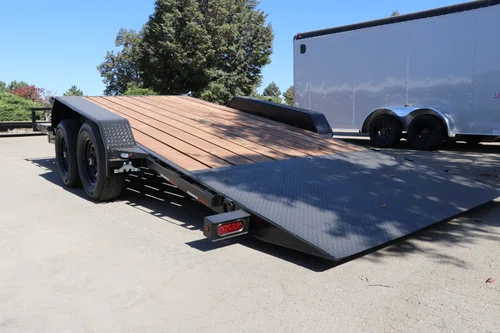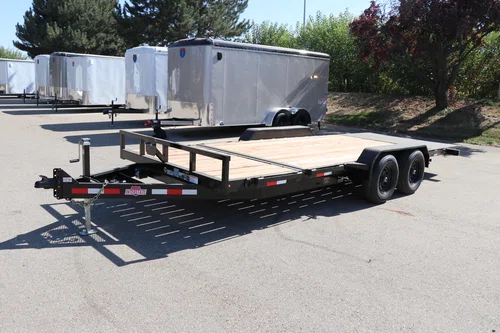 7' x 20' 10k Tilt Trailer
Interstate's 7' x 20' 10k tilt trailer is our first tandem axle tilt. The 10k capacity and added length bring more hauling options to Interstate tilts, such as the largest 4-seater side by sides to most cars.
SEARCH TILT TRAILER INVENTORY
For over 20 years, TrailersPlus has been dedicated to providing premier trailers, parts and services nationwide.
For over 20 years, TrailersPlus has been dedicated to providing premier trailers, parts and services nationwide. We have 73 locations across the country. offering the largest selection and 100 trailers at every store. We focus on delivering the highest quality trailers and the best customer service in industry.
Why Wait? Text (540) 889-3533 or Chat With Us Now!