Alabama

Arizona

Kingman, AZ

Phoenix, AZ

Tucson, AZ

Arkansas

Conway, AR

West Memphis, AR

California

Bakersfield, CA

Fillmore, CA

Fresno, CA

Gilroy, CA

Lakeside, CA

Live Oak, CA

Lodi, CA

Petaluma, CA

Redlands, CA

Santa Maria, CA

Colorado

Colorado Springs, CO

Denver, CO

Fort Collins, CO

Grand Junction, CO

Florida

Georgia

Idaho

Idaho Falls, ID

Nampa, ID

Post Falls, ID

Twin Falls, ID

Indiana

Iowa

Kansas

Kentucky

Louisiana

Minnesota

Missouri

Blue Springs, MO

Saint Louis, MO

Springfield, MO

Montana

Nebraska

Nevada

New Mexico

North Carolina

Ohio

Akron, OH

Cincinnati, OH

Columbus, OH

Oklahoma

Oklahoma City, OK

Tulsa, OK

Oregon

Eugene, OR

Medford, OR

Pendleton, OR

Portland, OR

Redmond, OR

Salem, OR

Pennsylvania

Hershey, PA

Morgantown, PA

Pittsburgh North, PA

Tennessee

Bristol, TN

Chattanooga, TN

Lebanon, TN

Texas

Beaumont, TX

College Station, TX

El Paso, TX

Ft Worth, TX

Houston, TX

Killeen, TX

San Marcos, TX

Utah

Virginia

Norfolk, VA

Roanoke, VA

Warrenton, VA

Washington

Chehalis, WA

Marysville, WA

Tacoma, WA

West Virginia

Wisconsin

Appleton, WI

Milwaukee, WI

Wyoming

Custom Cargo Trailers for Sale at TrailersPlus
TrailersPlus can build you the trailer you want! We specialize in customizing high quality Interstate trailers for every need. We've built thousands of custom trailers for concession, construction, recreation, and many other purposes. No matter the trailer type, size or need, TrailersPlus can build it better than anyone else! And don't forget, our work is backed up by our 100% CUSTOMER SATISFACTION GUARANTEE.
Tell Us About Your Custom Trailer Needs
Do you have a custom trailer idea in mind? Call (877) 850-7587 now or let us know the details here and we will be in touch within 2 business days.
Our Custom Trailer Work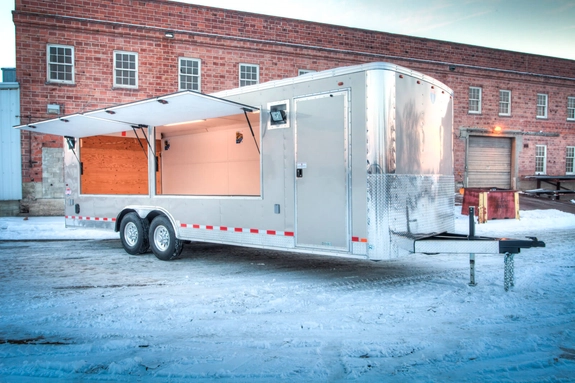 Open-Platform Food Concession Trailer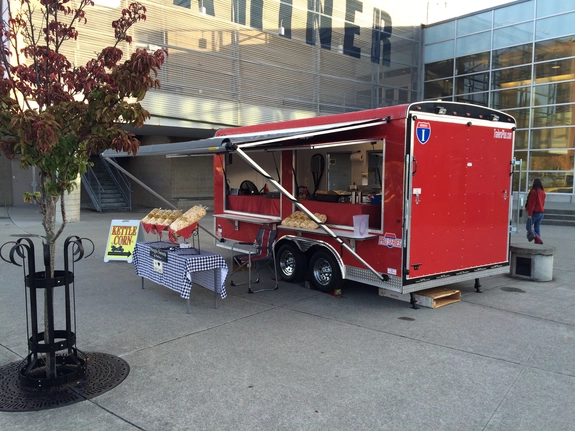 Kettle Corn Concession Trailer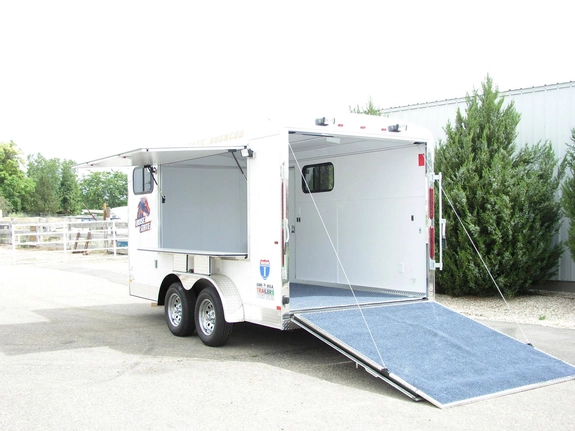 Tailgater Trailer
It's easy to get a trailer that checks every box on your list when you shop at TrailersPlus. That's because we can help you custom build a trailer that meets your exact specifications! We specialize in trailer customization, so turn to us when you want to buy a custom cargo trailer. We design Interstate trailers that are made with high-quality materials and built to last to your specific requirements. So, head straight to our nearby trailer dealers when you're looking to buy a custom trailer that offers incredible value.
Custom-Built Trailers near Me
TrailersPlus has built thousands of custom trailers over the years, so you can rest easy knowing that you're in expert hands when you visit us. No matter what trailer size or type you're searching for, we'll work with you to build your perfect match. From custom enclosed trailers for concession and construction to recreation and more, the possibilities are endless at TrailersPlus. What's more, all our work is backed by a 100% customer satisfaction guarantee!
Trailer Customization Ideas
While our cargo trailers serve as excellent worksite partners and outdoor companions, they can be used for a variety of other alternate trailer uses. One of the most popular custom trailer options is concession stands, which are ideal for football games, food truck gatherings and more. Or, you can take work on the go by converting a trailer into a mobile office space. Custom cargo trailers are also ideal for mobile businesses and boutiques. Unlimited opportunities await at TrailersPlus, so visit one our local trailer dealerships today to let us know what you have in mind!
Check out some of our popular trailer customization options online, then get in contact with a member of our team to start building a trailer you love. From air conditioner units and fluorescent lighting to baseboard heaters, windows, awning doors and more, there are plenty of ways to customize an enclosed trailer. We can't wait to hear your ideas!
Our Most Popular Options: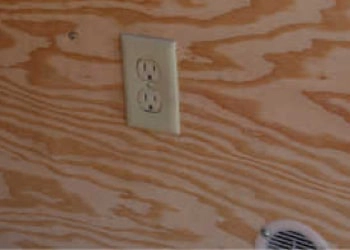 110V Package
A complete package with lighting, wall switch, outlets, and a panel box with lifeline and hatch.Includes:(2) 4' Fluorescent Lights with Wall Switch(2) Interior Outlets(1) External GFI Outlet 110V Panel Box w/ Lifeline and lifeline hatch*Requires a ceiling liner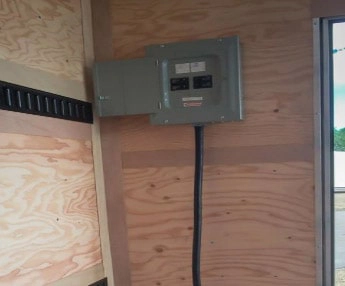 50 AMP Panel, Lifeline and Hatch
Get started by adding power to your trailer with a 50 AMP panel.Includes:50 AMP Panel Box36' Lifeline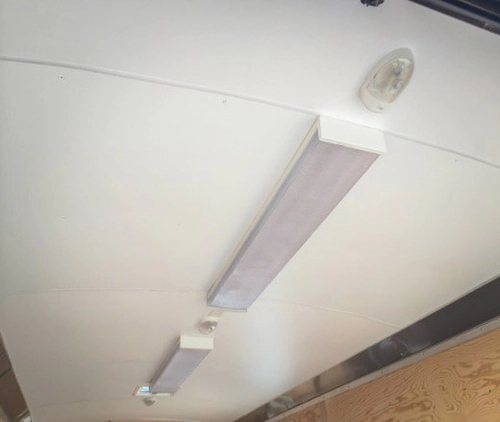 4' Fluorescent Lights
Illuminates the entire inside of your trailer!*Requires 110V power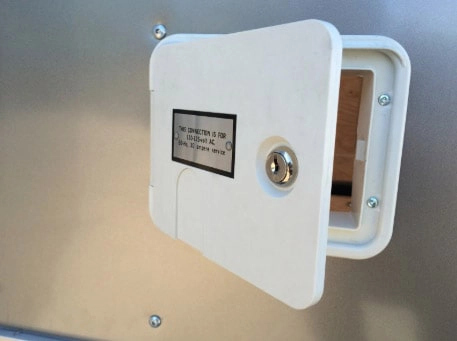 50 AMP Lifeline Door/Hatch
Add a 50 AMP lifeline door/hatch for easy access inside and out of the trailer.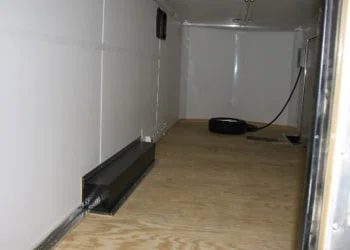 4' Baseboard Heater
No need for a jacket with a 4' baseboard heater. Extend your camping season or take the edge off before a day of riding on the trails.*Requires 110V power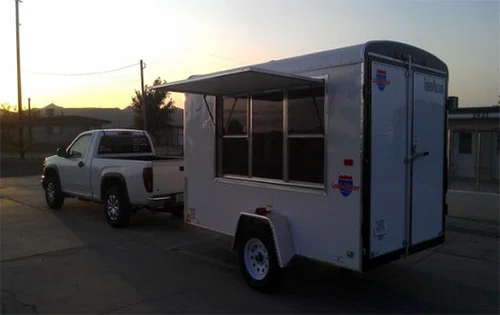 Concession Door with Window
Perfect for the vendor, this 74"x40" concession door includes 2 slider windows for easy access to the outside.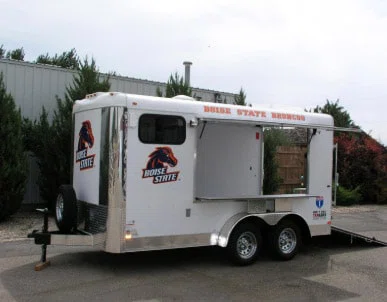 Awning Door
Turn your trailer into a vending truck with an awning door installation! Providing overhead cover to block from the sun and giving access to the inside of the trailer, this installation is great for ticket sales, gear rentals, or food vending.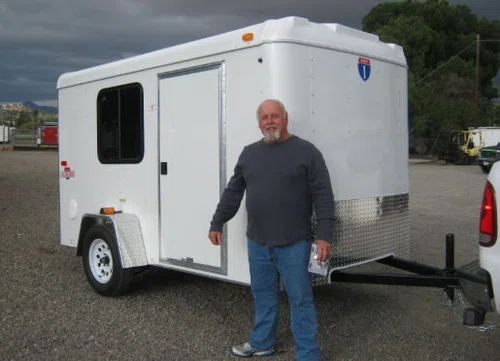 Windows
Are you using your trailer as a camper or would just like some extra lighting? We install both 15" W x 30" L and 30" W x 30" L windows. Just specify placement, and we will get it inserted.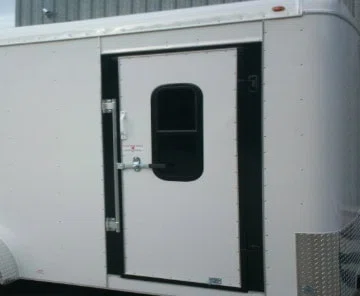 Window in Cam Door
You can have a window installed in a side door, providing the door is cam style (non-RV door). This window is 12" W x 30" L and is installed vertically.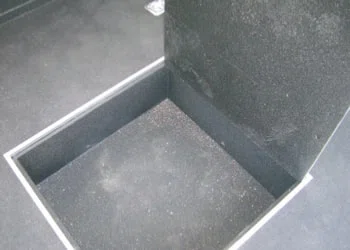 Spare Tire Compartment
A recessed spare tire compartment in the floor not only gives a seamless design, but allows for you to store material or build shelving on all other walls of the trailer without having to worry about your spare tire placement. This compartment is 33" x 33".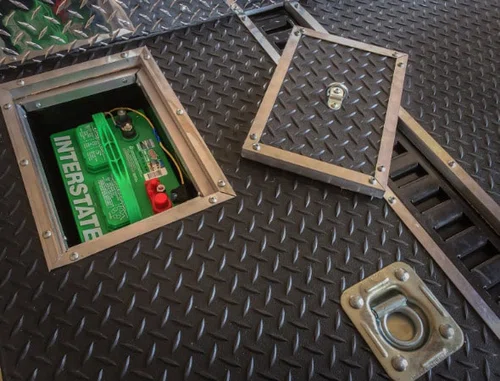 Recessed Battery Box in Floor
Do you want 12V power but don't want to see the battery or store it outside the trailer? We install recessed battery boxes in the floor for an out-of-sight application. Battery box is 8.5"W x 11.5"L x 11"D.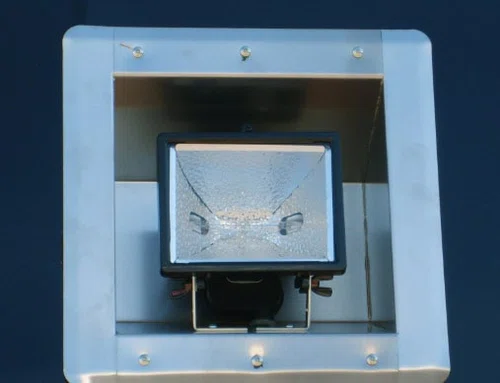 Exterior 500W Quartz Light
Do you continually carry out work outside at night? Our exterior 500w quartz light eliminates the need for supplemental lighting.*Requires 110V power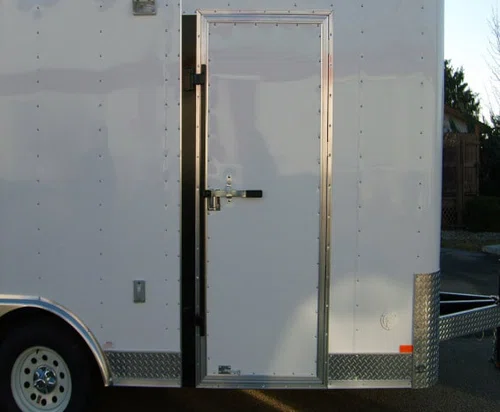 Cam Lock Upgrade on RV Door
The security of a cam lock door is outstanding, but the convenience of an RV door is unmatched. Why not have both? Install a cam lock upgrade on your RV door for added security.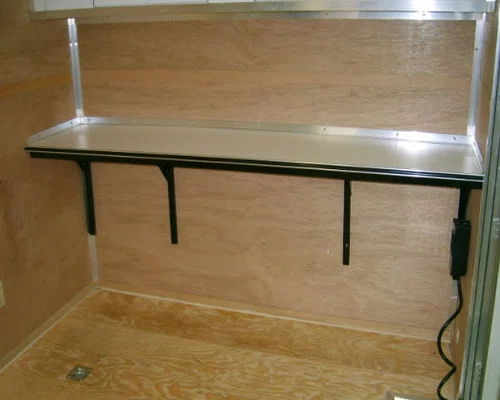 8' Workbench
Complete your tool crib with a workbench installation. This can be mounted on the front or side of the trailer.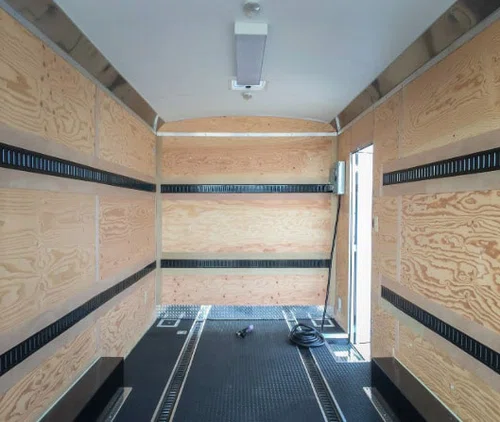 E-Track Recessed in Wall and Floor
Flush mount e-track for a professional look and feel. This can be mounted in the wall or the floor.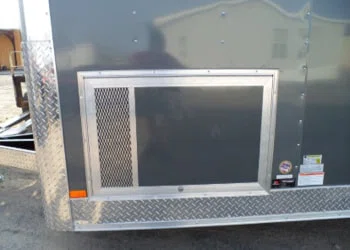 Generator Compartment
Do you run corded tools all day, need to charge batteries or plan to run 110V power while camping? Install a 36"x24" generator compartment, accessible from the outside of the trailer with lock and vent.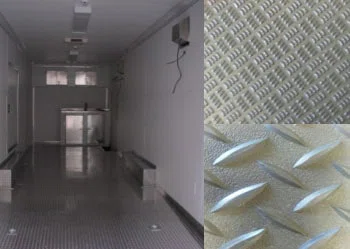 Flooring Options
Install flooring in your trailer! We offer:-TPO Flooring is highly chemical resistant to gasoline, diesel fuel, antifreeze, battery acid, engine oil, brake fluid, cleaners and other common chemicals.-Poly Flooring is typically used in our snowmobile trailers to withstand bite from carbides.-ATP Flooring.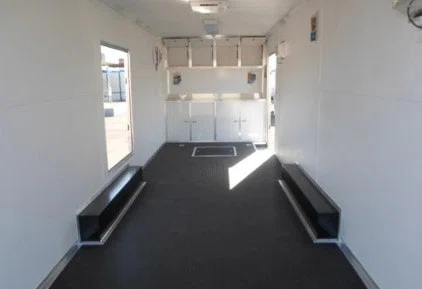 Finished Wall and Ceiling
Create a seamless atmosphere in your trailer with white vinyl or aluminum walls.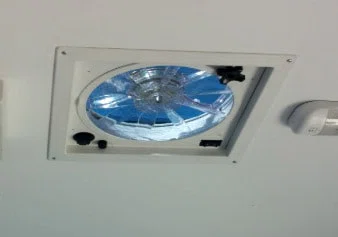 Intake / Exhaust Fan
Circulate the air, bring out fumes or bring in cool air with an intake / exhaust fan!*Runs off 12V power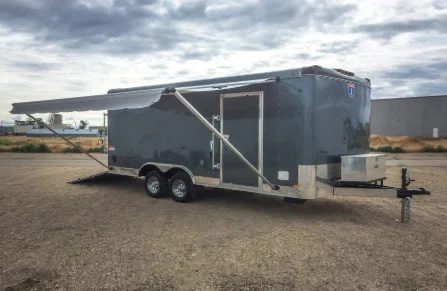 Shade Awning
Pair your trailer with an awning for sunny days camping, tailgating at the big game, or for preparing an outdoor classroom.*Available in lengths from 8' to 24'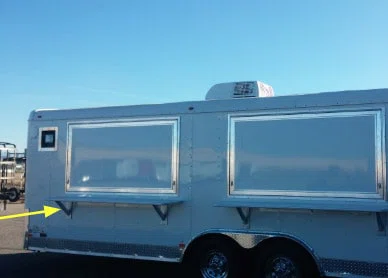 Awning Shelf
If you're a food vendor, you definitely need an awning shelf. Paired with awning doors or windows, this provides a convenient location for customers to place their food, drink, and funds at the point of transaction.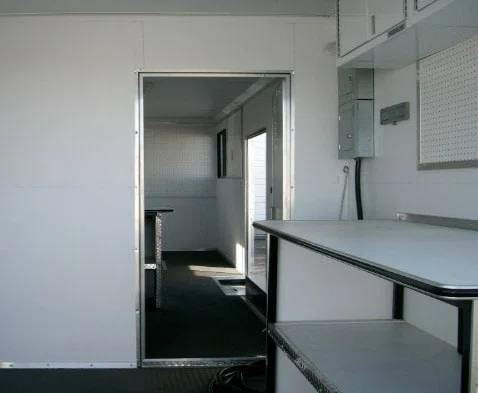 Partition Wall
If you run a classroom, split your workspace and storage, or are converting to a toy hauler camper, a partition wall is the upgrade for you! This is available with or without an RV door in the partition.*Requires a finished ceiling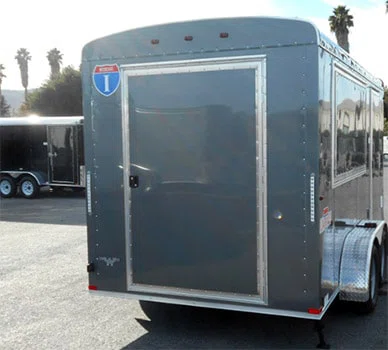 Solid Rear Wall
If you want your trailer completely closed off or would like the back wall to be a standard door, we can do both. A solid rear wall allows for either 1 access point to the trailer or gives you the option for a larger rear RV style door to be placed there.
For over 20 years, TrailersPlus has been dedicated to providing premier trailers, parts and services nationwide.
For over 20 years, TrailersPlus has been dedicated to providing premier trailers, parts and services nationwide. We have 81 locations across the country. offering the largest selection and 100 trailers at every store. We focus on delivering the highest quality trailers and the best customer service in industry.
Why Wait? Text 5408893533 or Chat With Us Now!