Tell Us About Your Custom Trailer Needs
Do you have a custom trailer idea in mind? Call (877) 850-7587 now or let us know the details here and we will be in touch within 2 business days.
Dump Trailer Specifications & Features
Every Carry-On dump trailer and Interstate gooseneck trailer we sell is built to TrailersPlus specifications, achieving the highest standard of quality and durability. Many of our dump trailers also feature a power-up/power-down hydraulic lift, which allows for easy unloading thanks to a remote function design that lifts the bed of the trailer to 40 degrees. You'll also have the option to choose between two- or three-way gate trailer configurations to allow for ease of access to the dump bed. Plus, we have 5-feet, 6-feet and 7-feet wide dump trailers available, making it easy to find the exact trailer size you need.
Additional Carry-On and Interstate dump trailer features can include: Dexter Spring Axles, Interstate Deep Cycle Battery, Hydraulic Unit in Sealed Steel Compartment, Radial Tires, Dump Tarp, Stake Pockets, D-Rings, Trailer Ramps, and More!
Gooseneck Dump Trailers for Sale near Me
Our Interstate gooseneck dump trailers are ready to handle whatever jobs you have in store. Featuring a long "gooseneck" hitch, these trailers grant greater stability and minimize the chance of swaying. The result? Over 10,000 pounds of hauling capability. Want to compare gooseneck vs. bumper pull dump trailers? Speak with the TrailersPlus team to find out which is best suited for your needs.
Once you've decided on which trailer is right for you, head to one of our local trailer dealers. We'll be happy to walk you through the sales process and even set you up with a trailer financing plan that works for you. We can't wait to see you on our lot!
Dump Trailer Features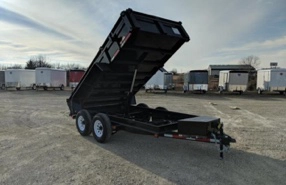 Built to TrailersPlus Specifications
All Interstate trailers are built with the highest standard of quality and durability. Period. We expect that standard to be maintained for all trailers we sell, so when we partnered with Carry-On to distribute open-trailer car haulers we had them ensure our standard of quality.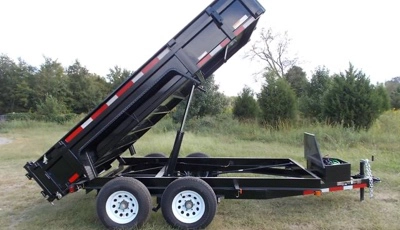 Hydraulic Lift
Unload your dump trailer with ease using our power-up / power-down hydraulic lifts. Featuring a remote function design which lifts up to 40 degrees, the hydraulic lifts on all Carry-On and Interstate dump trailers will get your job done.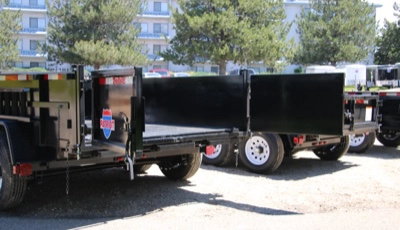 Two- or Three-Way Gate
All Carry-On dump trailers feature a double door barn gate for easy access to the dump bed. Conveniently load equipment, unload a pallet, or dump scrap with the use of this gate. The Interstate Gooseneck and Carry-On 7x14 14k features a three-way gate, capable of opening barn door (two-way) style like the Carry-On dumps, or spreader style where the top corners stay fixed and the bottom corners unlatch for spreading gravel or black dirt.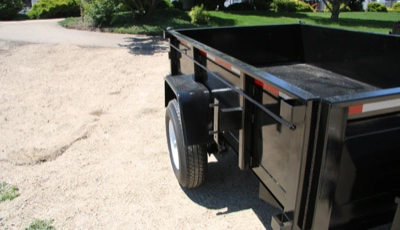 Low Profile 24" Sides
Dump trailers aren't only for hauling material. With low profile 24" sides, you have easy access to tie down points when hauling equipment such as skidsteers or mini excavators, or when loading pallets with a forklift. We offer an option for higher sides, adding an extra 24" to the side height of your trailer for hauling brush or roofing scrap.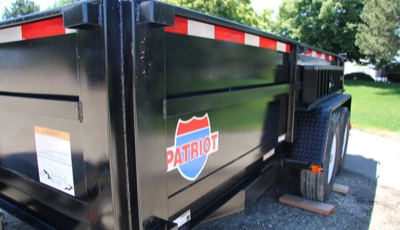 Commercial Strength Floor and Walls
By using heavy gauge steel for our floor and walls, our dump trailers have the strength to get the job done every time. The increased resistance to warping and damage leave our trailers to stand the test of time. The Carry-On dump trailer walls and floor are made from 14-gauge and 11-gauge steel, respectively. The Interstate dump trailer walls and floor are constructed with 10-gauge steel.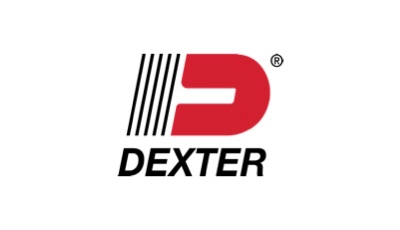 Dexter Spring Axles
All TrailersPlus-carried dump trailers are built with American-Made Dexter Axles, the quality leader in the industry for over 50 years. Our trailers are constructed with heavy duty leaf springs that provide superior durability and handling.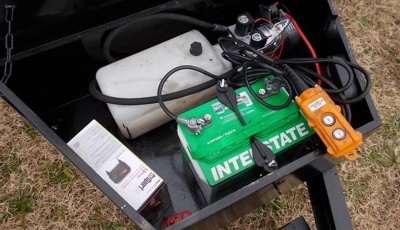 Interstate Deep Cycle Battery
We only put the best quality into our products. That is why we use Interstate Deep Cycle batteries, capable of being discharged and recharged on a continuous basis. Paired with Interstate's legendary quality, this was the perfect match for our products.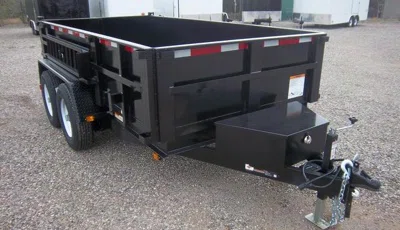 Hydraulic Unit in Sealed Steel Compartment
The controls and battery for the dump bed's hydraulic unit are located in a sealed steel compartment at the front of the trailer. Not only does this provide cover from the elements, but it gives you an extra storage space for gloves and safety vests.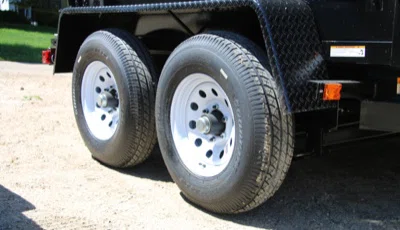 Radial Tires
Our 12k, 14k and gooseneck dump trailers come equipped with radial tires. They provide a longer life and increased fuel mileage when compared to bias ply tires. Not only that, but radial tires are much less prone to blowouts. In line with Interstate's legendary durability, we want our trailers to get you to and from the job with zero hassle and are willing to go the extra mile.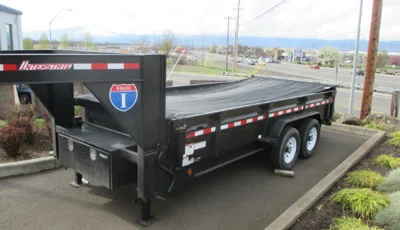 Optional Dump Tarp
Optional on Carry-On dump trailers and standard on Interstate dumps, protect and keep your cargo in place with a dump tarp. More and more states are requiring dump tarps on trailers, plus a dump tarp prevents debris from damaging the vehicle behind you. Ask a store associate about our dump tarp options.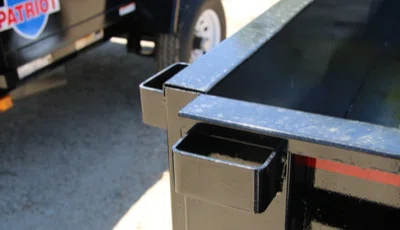 Stake Pockets
All our dump trailers have welded stake pockets on either side of the bed. Whether you want to build you own high-sides for hauling brush and roofing scrap or would like to use them as extra tie-down points, the included stake pockets are there for your convenience.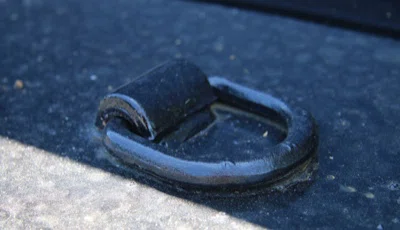 D-Rings
Secure your equipment in the 6x12 12k, 7x14 14k, and gooseneck models with pre-mounted D-rings. Whether you're hauling a skidsteer, mini excavator, or pallets, you will be DOT compliant and can safely and securely haul cargo to and from the jobsite.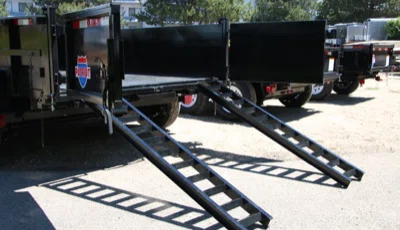 Ramps
Our commercial grade steel ramps included with our 6x12 12k, 7x14 14k, and gooseneck models are ready to tackle all of your equipment loading needs. Securely store ramps underneath the rear of the trailer - they are available when you need them and hidden but accessible when you don't.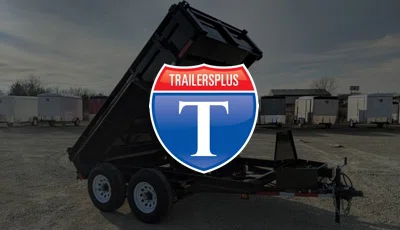 Warranty
All Interstate and Carry-On dump trailers come with a 1-year limited warranty.
For over 20 years, TrailersPlus has been dedicated to providing premier trailers, parts and services nationwide.
For over 20 years, TrailersPlus has been dedicated to providing premier trailers, parts and services nationwide. We have 73 locations across the country. offering the largest selection and 100 trailers at every store. We focus on delivering the highest quality trailers and the best customer service in industry.