Custom Cargo Trailers for Sale at TrailersPlus
TrailersPlus can build you the trailer you want! We specialize in customizing high quality Interstate trailers for every need. We've built thousands of custom trailers for concession, construction, recreation, and many other purposes. No matter the trailer type, size or need, TrailersPlus can build it better than anyone else! And don't forget, our work is backed up by our 100% CUSTOMER SATISFACTION GUARANTEE.
Tell Us About Your Custom Trailer Needs
Do you have a custom trailer idea in mind? Call (877) 850-7587 now or let us know the details here and we will be in touch within 2 business days.
Buy Utility Trailers near Me
Each of our local trailer dealerships boasts an inventory that's filled with utility trailers ready to meet your demands. Through our partnership with Carry-On Trailer, we're able to offer a wide scope of versatile trailers that maintain the high standard of quality and durability that TrailersPlus is known for. When you shop with us, you'll find plenty of utility trailer configurations available, from single axle and tandem axle to ATV setups and more. Plus, we offer mesh, wood and steel floor options to suit your preferences. If you'd like to upgrade your utility trailer, simply ask about our available trailer parts packages!
Explore Utility Trailers Sizes
Finding the utility trailer size that's right for your personal or business needs is easy at TrailersPlus. We have plenty of small utility trailers for sale that are great for hauling ATVs, lawn mowers and more, like our 4x6 and 5x8 trailers. If you need a mid-sized trailer for your landscaping work, simply ask about our 6x10 and 6x12 utility trailers. And for those completing large-scale projects or transporting UTVs, we have 7x12, 7x14 and 7x16 trailers for sale.
Utility Trailer Prices
Once you've determined the right utility trailer size and type, our trailer sales team will be here to discuss price options. We can help you apply for trailer financing, as well as go over the benefits of buying from TrailersPlus. We look forward to hearing from you soon!
Utility Trailer Features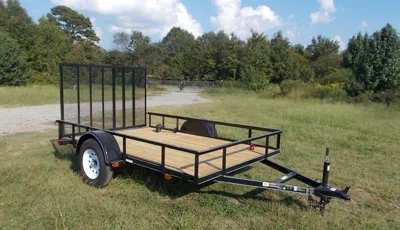 Built to TrailersPlus Specifications
All Interstate trailers are built with the highest standard of quality and durability. Period. We expect that standard for all trailers we sell, so when we partnered with Carry-On to distribute utility trailers, we had them maintain our standard of quality.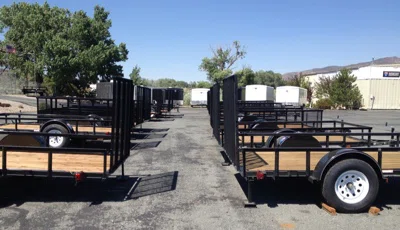 Various Configurations to Meet Your Needs
Having over 100 trailers available at each of our locations, our goal is to find you the perfect trailer to drive home with today. That's why we offer many configurations of utility trailers, including single axle, tandem axle, pipe top, high sides, mesh sides, ATV setups, and more. Whether you are a landscaper, weekend warrior, or need a trailer for work around the house, we have the best option for you.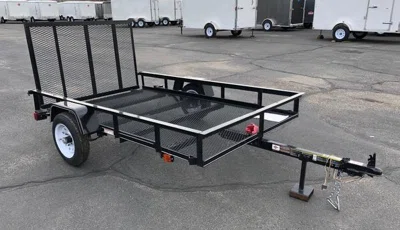 Mesh, Wood, or Steel Floor
Our utility trailers come with various floor options to cater to your preferences. Whether you prefer mesh, wood, or steel, we have a variety of options that mean you can drive away with the trailer that fits your needs best.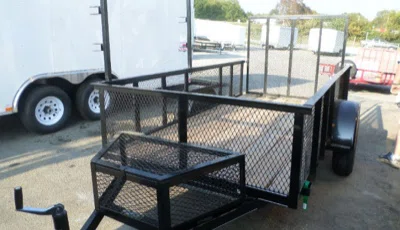 Optional Upgrades
Do you need more out of your trailer? We offer upgrades to utility trailers such as tongue boxes and side extensions. Store your tools, ratchet straps, work gloves, and safety vests in one of our tongue boxes - mesh, black solid, or diamond plate. Hauling brush, mulch, or do you just want a bit more vertical space out of your trailer? We offer 24" side extensions so you can be confident that everything you put in your utility trailer will stay in your utility trailer.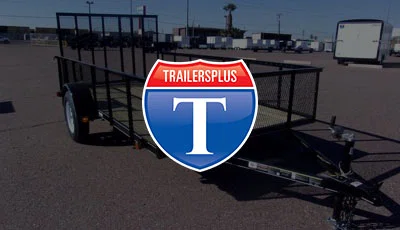 Warranty
All Carry-On utility trailers come with a 1-year material and workmanship warranty.
For over 20 years, TrailersPlus has been dedicated to providing premier trailers, parts and services nationwide.
For over 20 years, TrailersPlus has been dedicated to providing premier trailers, parts and services nationwide. We have 73 locations across the country, offering the largest selection and 100 trailers at every store. We focus on delivering the highest quality trailers and the best customer service in industry.