Alabama

Arizona

Kingman, AZ

Phoenix, AZ

Tucson, AZ

Arkansas

Conway, AR

West Memphis, AR

California

Bakersfield, CA

Fillmore, CA

Fresno, CA

Gilroy, CA

Lakeside, CA

Live Oak, CA

Lodi, CA

Petaluma, CA

Redlands, CA

Santa Maria, CA

Colorado

Colorado Springs, CO

Denver, CO

Fort Collins, CO

Grand Junction, CO

Florida

Georgia

Idaho

Idaho Falls, ID

Nampa, ID

Post Falls, ID

Twin Falls, ID

Indiana

Iowa

Kansas

Kentucky

Louisiana

Minnesota

Missouri

Blue Springs, MO

Saint Louis, MO

Springfield, MO

Montana

Nebraska

Nevada

New Mexico

North Carolina

Ohio

Akron, OH

Cincinnati, OH

Columbus, OH

Oklahoma

Oklahoma City, OK

Tulsa, OK

Oregon

Eugene, OR

Medford, OR

Pendleton, OR

Portland, OR

Redmond, OR

Salem, OR

Pennsylvania

Hershey, PA

Morgantown, PA

Pittsburgh North, PA

Tennessee

Bristol, TN

Chattanooga, TN

Lebanon, TN

Texas

Beaumont, TX

College Station, TX

El Paso, TX

Ft Worth, TX

Houston, TX

Killeen, TX

San Marcos, TX

Utah

Virginia

Norfolk, VA

Roanoke, VA

Warrenton, VA

Washington

Chehalis, WA

Marysville, WA

Tacoma, WA

West Virginia

Wisconsin

Appleton, WI

Milwaukee, WI

Wyoming
As fall approaches, students are heading back to colleges across the nation for another year of studying hard. As they pack up their possessions and transport them cross-country back to their schools, it's also the sign of another new beginning – the start of the college football season!
We can't wait for the tailgates, the game day excitement and the touchdowns! All of this has us asking one thing. Every college and every state claim to have the most dedicated and loyal fans, but who are the true die-hards when it comes to dedication to their team? We surveyed over 2,000 college football fans to find out!


America's Game Preferences
Before we looked at the most loyal divisions and states, we started out by gauging how America feels about college football in general. We all know that the gameday experience is about much more than just the actual game – with nearly half (44%) of respondents choosing something other than the game as their favorite part of gameday. Almost a quarter (22%) of college football fans said they don't attend any games at all during a season.
That's not to say college football fans aren't fiercely loyal! Nearly three-quarters (72%) of Americans said they'd skip work to watch their team in a championship game – with 25% even saying they'd risk the wrath of their partner and miss an anniversary.
We also wanted to know whether we're a nation of loyal fans, rooting for our home team, or a bunch of bandwagon supporters. We're pleased to say that a majority of Americans (58%) choose their college football team based on state loyalty, although 39% of people did say they chose a team based on success. You might expect college football loyalties to be strongly linked to the college fans attended. This proved not to be the case, with only 32% of people saying their Alma Mater influenced their choice.


The Most Loyal Conference
Every fan thinks their team's conference is the best, but which one has the most loyal fans? Who has the kind of supporters who would miss their own child's birth and drive cross-country to watch them in a championship final? We combined five 'loyalty ranking factors' from our survey results and uncovered the conference with the most devoted followers. These ranking factors included the number of fans who…
Attend 5+ games a season
Support their home state team
Would travel 7+ hours for a game
Would miss their child's birth to catch their team in a championship game
Return to their college Alma Mater at least once a year
When rooting for your team – loyalty matters! We can unveil the Mountain West Conference as the most loyal of all the college football conferences. The Mountain West came out on top in an incredible four of our five factors! With 69% of their fans supporting their home state team and 57% returning to their Alma Mater at least once a year, these fans are seriously loyal to their state and college. What's more, almost a quarter would hit the road and travel over seven hours to support their side! Fans in both the Mountain West and American Athletic Conference (AAC) are most likely to be in the stands, with 34% of their fans attending at least five games a season.
The AAC and Atlantic Coast Conference (ACC) came joint second overall and the latter has the fans most likely to head to more games. 14% even said they'd happily skip their own child's birth to cheer their team on to a championship win.
Most Loyal Conference
Mountain West
AAC/ACC
SEC/Pac-12
Big 12
Big 10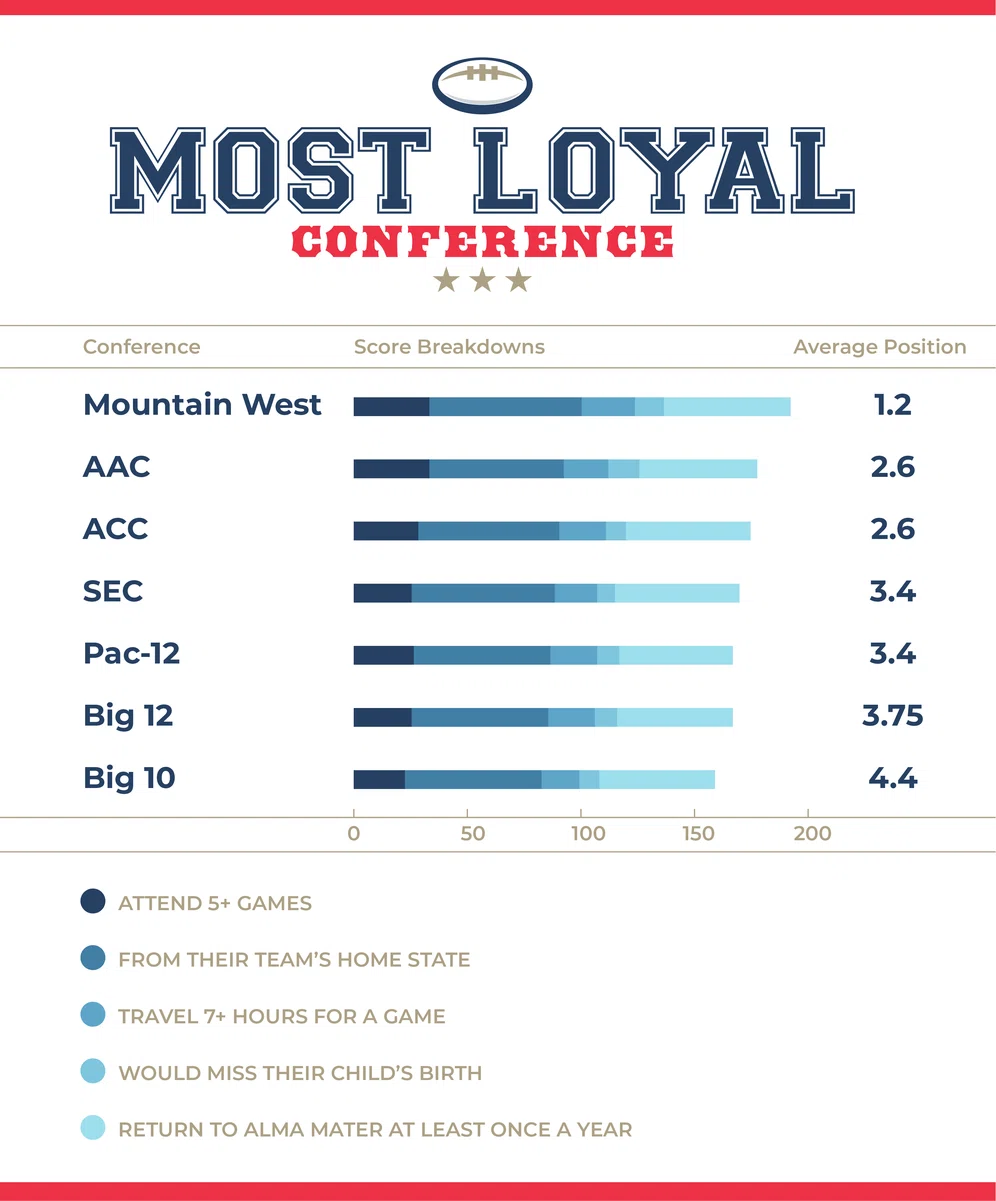 Which State is Most Loyal?
State and football loyalty are serious business - so this ranking is an important one! To figure out the most loyal state, we used the same five ranking factors that we did for the most loyal conference.
Despite the conferences of Iowa's two most popular schools, Iowa State and University of Iowa, not making the top three, the people of Iowa proved their loyalty when it comes to their state. The Hawkeye State finished in the top five in four of our ranking factors and took the title of most loyal state! 50% would miss their anniversary and 17% of Iowans would miss their child's birth to see their team in a championship game! They're also willing to hit the road; almost a quarter (22%) would travel over seven hours to watch their team!
The only category where Iowa didn't appear was returning to their Alma Mater at least once a year. This title went to fans in Alabama (Roll Tide!) 72% of Alabaman respondents head back to their school where they studied at least once annually. Over eight-in-ten (84%) fans from Wisconsin support their home state team, meaning the Badgers have the largest proportion of home state fans in America.
The dubious title of least-loyal state went to Connecticut, with only just over a quarter (27%) of supporters rooting for their team because it's their home state. It's not good news for those who root for the Fighting Hawks, because fans in North Dakota were the most likely to choose a team based on success (57%).


What You'd Sacrifice for your Team
We also wanted to test college football fans and ask what life events they'd happily miss to see their team in a championship game. Nearly three-quarters (72%) of college football fans had no reservations in skipping work to catch their team!
Over a quarter (27%) of Americans would miss a friend's wedding to cheer on their favorite team and 25% would skip out on their anniversary for the big game. More women (28%) than men (22%) were happy to deal with their partner's anger at missing this important date.
Many Americans were happy to risk domestic harmony for a championship game, with 23% saying they'd miss their partner's birthday. One of the most shocking stats we found was that almost one-in-ten (8%) would miss either their child's birth or their own wedding to root for their team in a big game. Now that's loyalty and commitment!


America's Perfect Tailgate
Hitching up the trailer and heading to a tailgate is an essential part of making gameday special, and nearly a quarter (22%) of respondents said it's their favorite part of the college football experience. In Louisiana, nearly half (46%) of responds said tailgating was their favorite part of gameday. But what makes the perfect tailgate?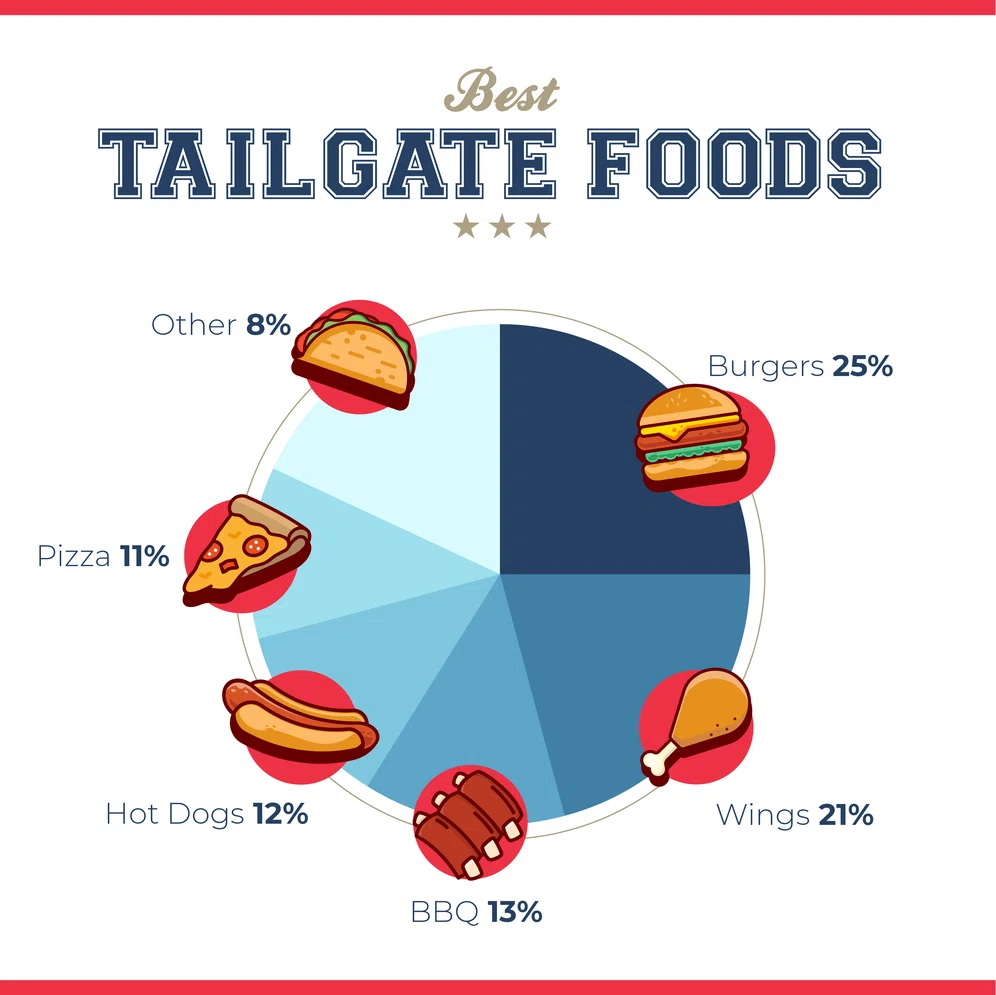 A quarter of respondents (25%) chose the classic burger as America's favorite tailgate snack! This perhaps owes to how easily it can be slapped on the grill and eaten on the move. What's the perfect accompaniment to a burger? Well, according to nearly half (44%) of our respondents, it's an ice-cold beer! A beer, a burger and the game – sounds perfect to us!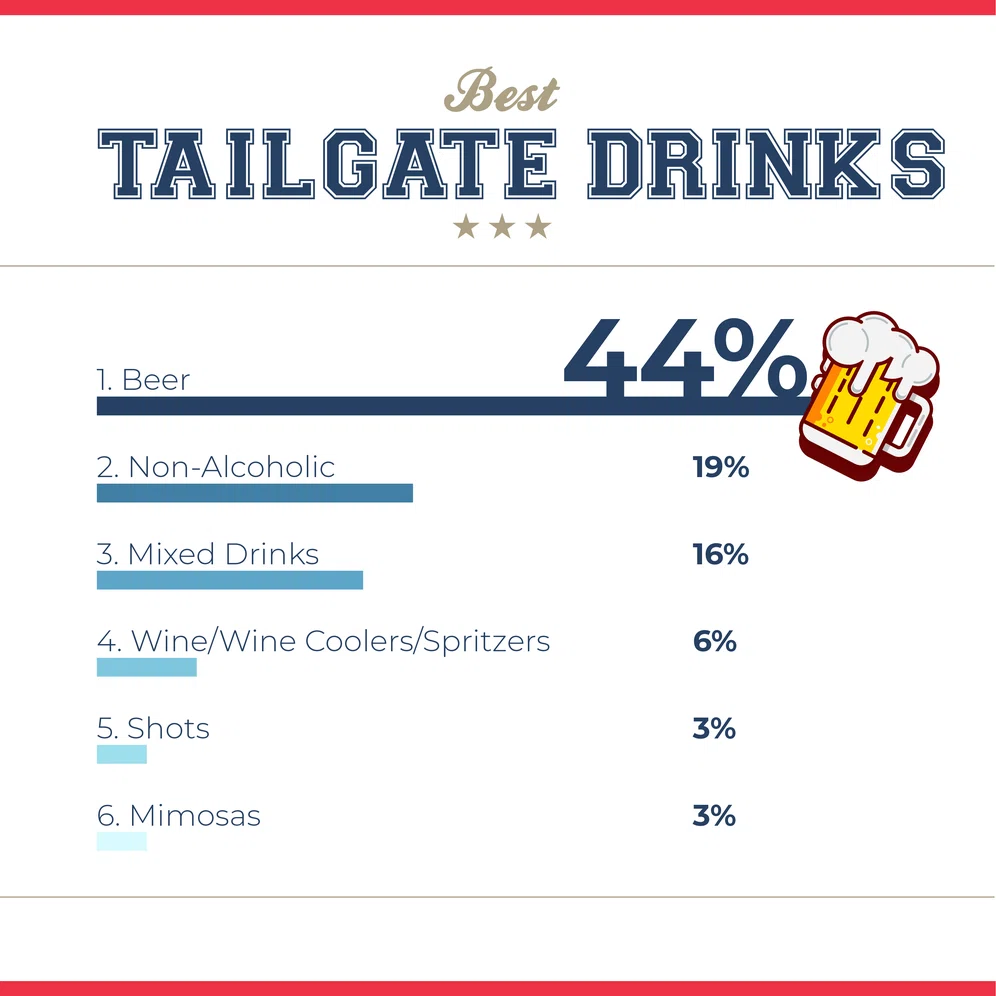 When it comes to the quantity of drinks consumed at a tailgate, 21% said they'd usually consume around three beverages, with 20% saying two and 17% downing four. We also looked at the biggest drinking states, based on the percentage of people who'd consume 5+ drinks at a tailgate:

Connecticut – 41%
Iowa – 40%
Kansas – 37%
Washington – 35%
North Carolina – 35%
Mississippi – 35%
Ohio – 33%

Nearly one-fifth (19%) of people said they prefer to stick to non-alcoholic drinks at a tailgate. This was particularly prominent in South Carolina, where non-alcoholic was the most popular drink choice for over a third (35%) of people.
With fiercely loyal fans, amazingly talented players and awesome tailgates, the start of the college football season is always a special time! Our survey has looked at some key factors that help define loyalty, but there are so many other reasons that every state, division and college would say makes their team the best. That's the beauty of football – there's always room for rivalry and debate!

Do you have any trailer questions?
Please call us at 877-850-7587 to discuss!