Grabbing a treat from the ice cream truck has been a summer tradition for generations of children (and adults) across America. That instantly recognizable jingle. The brightly colored truck pulling onto your street. Making the mad dash inside to beg mom and dad before joining the swarm of kids excited choosing their treat. The ice cream truck really is the highlight of any hot summer day!
With National Ice Cream Day approaching on July 21st, we wanted to answer one very big question: What's the best ice cream truck treat and how does that vary from generation to generation? At TrailersPlus, we carried out some research to find out just that.


Decisions Decisions
We've all stood at the window of an ice cream truck with an array of colorful options looking us in the face, so we all know how tough it can be to make the right choice. We started off our survey by asking respondents to pick their favorite type of ice cream truck treat. This meant choosing between ice cream bars, ice cream sandwiches and tacos, popsicles and push-ups.
The most popular in this section was the ice cream bar. The treat on a stick was voted as the favorite by 36% of our respondents. This was closely followed up by ice cream sandwiches and tacos, with almost three-in-ten (29%) people choosing the sweet alternative to a savory classic as their first choice. Ice cream bars proved most popular with Gen Z (35%) and Baby Boomer (49%) respondents, whereas Millennial (40%) and Gen X (30%) respondents opted for sandwiches and tacos.
Popsicles came in third place, with 16% of Americans saying these fruity options were their go-to treat when the jingle of the ice cream truck comes calling. Push-ups came fourth with 7% of the vote, while there were some suggestions for the classic soft-serve ice cream and drumstick ice cream cones.


Good Humor Bars Come Out on Top!
With ice cream bars being voted as the favorite type of ice cream truck treat, we asked our respondents to pick their favorite type of bar – giving us the overall favorite ice cream truck treat in America.
Whether it's the delicious, fruity strawberry shortcake flavor, the nutty toasted almond or the sweet and rich chocolate éclair variety, 33% of Americans can't get enough of Good Humor Bars. This means that, loved by a third of Americans, they are officially the number one ice cream truck treat in America!
Another ice cream from the makers of Good Humor Bars came second, with 18% of respondents preferring the simpler flavors of the Chocolate Coated Vanilla Bar. Third place saw a tie, with the Fudgsicle and Creamsicle each getting 14% of the vote. The ice cream version of the popular Crunch chocolate bar came fourth, with 13% of people choosing this.
The voting in this category was rounded off with the Turtle bar (5%), Snoopy (3%) and Great White (1%).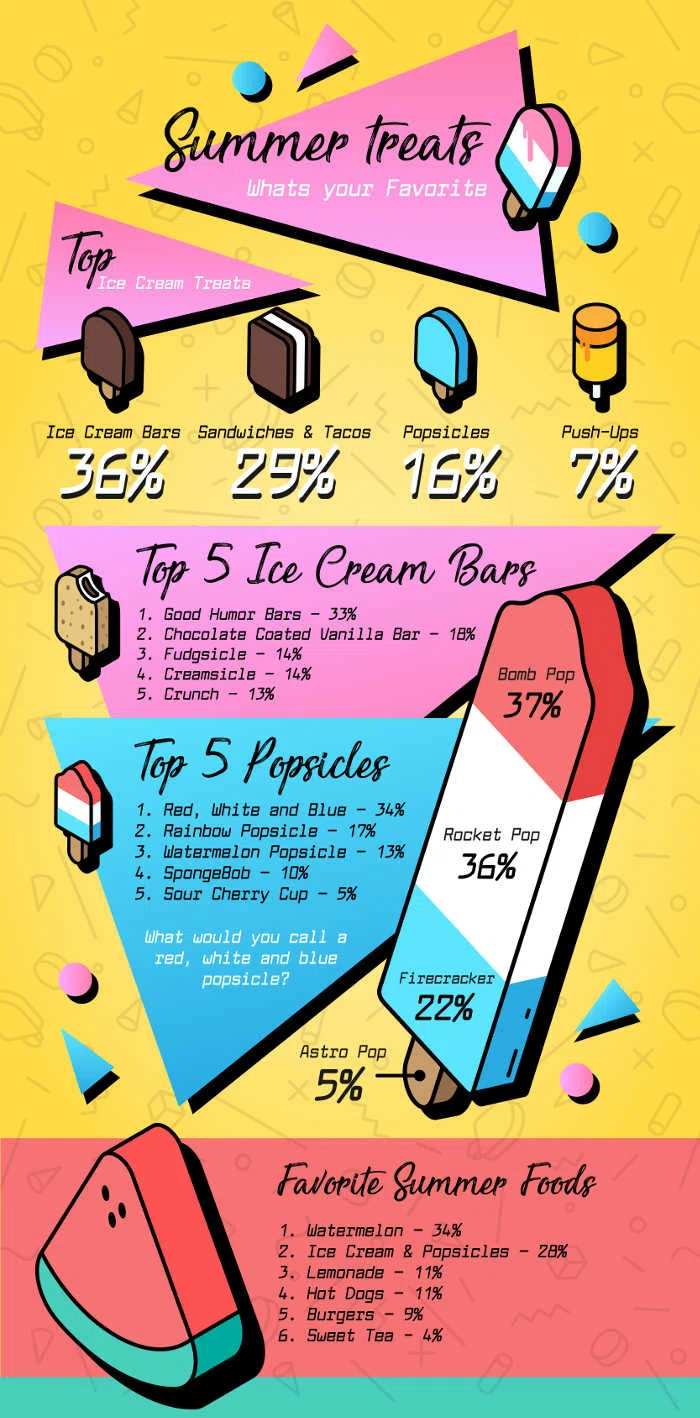 Ice Cream Sandwiches
Whether your ice cream is sandwiched between cookies or wafer, we all love an ice cream sandwich or taco. It was a close fight for the top spot when it came to this category. The genius mix of cookies and ice cream helped the Chocolate Chip Cookie Chipwich gain over a third of the votes (34%) and take the crown as America's favorite ice cream sandwich or taco.
Second place went to the Klondike bar with 32% of respondents choosing this option. Third place went to another variety of the popular Chipwich, the Cookies and Cream flavor took 18% of the vote, closely followed by Choco Taco, coming in with 16% of votes.
When it came to age differences, the Chocolate Chip Cookie Chipwich was the favorite for the two younger age brackets. Gen Z (44%) and Millennials (36%) chose the snack first introduced to America in 1978 as their favorite. The Klondike was the number one choice for the older generations surveyed, 32% of Gen X and 64% of Baby Boomers selected the old classic, which first retailed in 1922.


Top of the Popsicles
An ice-cold, fruity popsicle epitomizes summer for many people and the winner of this category is a true American classic. The Red, White and Blue popsicle came in as the runaway winner when it came to the nation's favorite popsicle, with over a third (34%) of the votes.
There was also much debate about the true name of this patriotic frozen treat. 37% of survey respondents would call it a Bomb Pop, whereas 36% know the red, white and blue popsicle as a Rocket Pop. A further 22% know it as a Firecracker, with only 5% of Americans choosing to call it an Astro Pop.
The colorful Rainbow Popsicle got 17% of the vote, followed by Watermelon Popsicles on 13%. Everyone's favorite sponge that lives under the sea, SpongeBob, came in fourth place with 10% of the popsicle vote – this choice was particularly popular with Gen Z respondents; nearly a quarter (22%) chose this as their favorite.


Most Popular Push-Ups
There was one clear winner when it came to voting for the nation's favorite push-up ice cream treat. The Classic Push-Up came in first place, with six-in-ten American's choosing this as their first choice.
The competition couldn't get close to the Classic Push-Up. Second place went to Minute Maid Juice Bars, collecting one fifth (20%) of the votes in this category. This was followed by the Cherry Screwball, a favorite of one-in-ten American's, and the Icee Squeeze on (9%).


Jingle All the Way
Is there anything more nostalgic than the familiar sound of an ice cream truck jingle? Although many brilliant tunes have been made into ice cream truck jingles, we all have the one that takes us back home. 35% of respondents said that Pop Goes the Weasel was the jingle that had them running for a sweet treat.
Just under a quarter (23%) of American's said Do Your Ears Hang Low? was the song that announced the arrival of their ice cream truck, with only Gen Z choosing this as their favorite (31%). Both La Cucaracha and The Entertainer took 13% of the vote. Finally, Turkey in the Straw came in with 10% of the vote.


Favorite Summer Foods
Everyone knows that ice cream is a summer favorite across the country, but what summer foods do Americans love the most to cool them off on a hot day? Over a third (34%) of respondents said that the watermelon was their favorite summer treat. This beat ice cream and popsicles, which took second place with over a quarter of the votes (28%).
Watermelon was a favorite for Gen Z (35%) and Baby Boomer (37%) respondents, showing the younger generation's health-conscious attitude to their diets. Millennials and respondents from Gen X stuck with ice cream and popsicles, with 33% and 34% of the votes going that way respectively.
Selecting a treat from the ice cream truck is not a decision made lightly, and there's always a lot of debate around which ice cream treat is king. Whether it's a Good Humor Bar, a Klondike or a good ol' Push-Up, we hope you have a great day on National Ice Cream Day… or any other day you feel like treating yourself!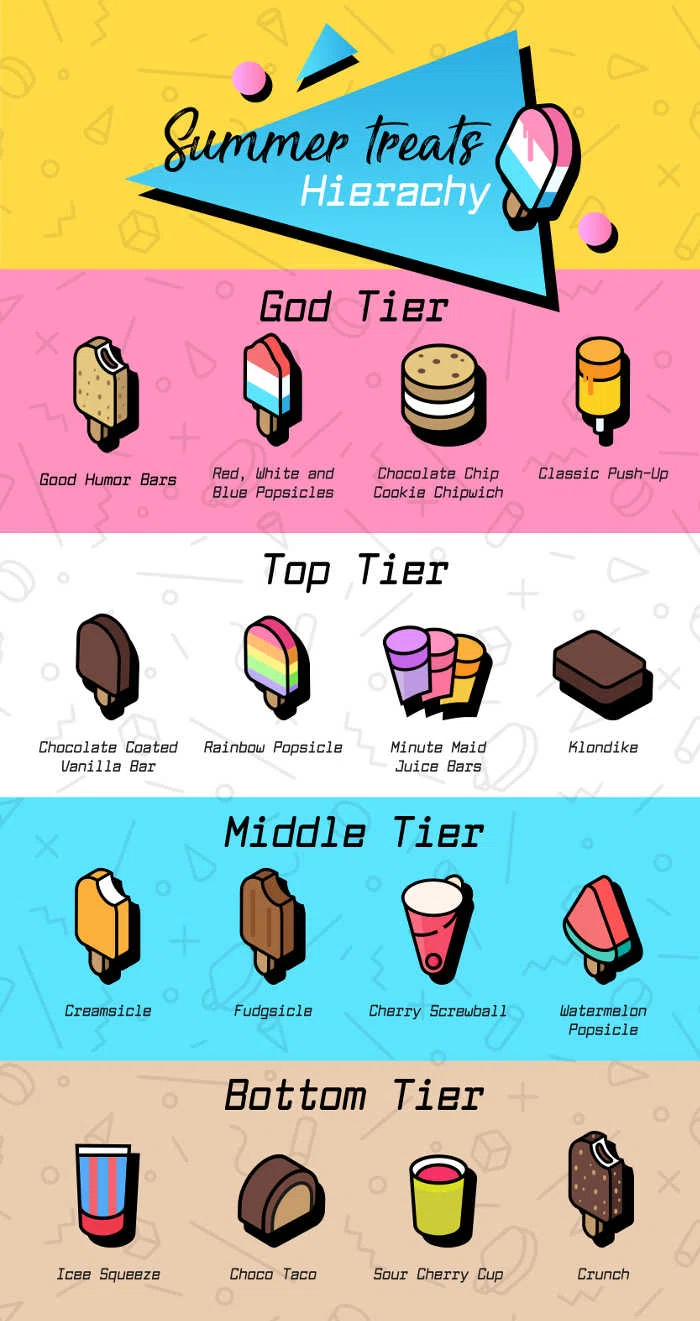 Learn more about trailer financing!