Alabama

Arizona

Kingman, AZ

Phoenix, AZ

Tucson, AZ

Arkansas

Conway, AR

West Memphis, AR

California

Bakersfield, CA

Fillmore, CA

Fresno, CA

Gilroy, CA

Lakeside, CA

Live Oak, CA

Lodi, CA

Petaluma, CA

Redlands, CA

Santa Maria, CA

Colorado

Colorado Springs, CO

Denver, CO

Fort Collins, CO

Grand Junction, CO

Florida

Georgia

Idaho

Idaho Falls, ID

Lewiston, ID

Nampa, ID

Post Falls, ID

Twin Falls, ID

Indiana

Indianapolis, IN

Mooresville, IN

Iowa

Kansas

Kentucky

Louisiana

Minnesota

Missouri

Blue Springs, MO

Saint Louis, MO

Springfield, MO

Montana

Nebraska

Nevada

New Mexico

North Carolina

Ohio

Akron, OH

Cincinnati, OH

Columbus, OH

Oklahoma

Oklahoma City, OK

Tulsa, OK

Oregon

Eugene, OR

Medford, OR

Pendleton, OR

Portland, OR

Redmond, OR

Salem, OR

Pennsylvania

Hershey, PA

Morgantown, PA

Pittsburgh North, PA

Tennessee

Bristol, TN

Chattanooga, TN

Lebanon, TN

Texas

Beaumont, TX

College Station, TX

El Paso, TX

Ft Worth, TX

Houston, TX

Killeen, TX

San Marcos, TX

Utah

Virginia

Norfolk, VA

Roanoke, VA

Warrenton, VA

Washington

Chehalis, WA

Marysville, WA

Tacoma, WA

West Virginia

Wisconsin

Appleton, WI

Milwaukee, WI

Wyoming
To support community youth, the Interstate trailer manufacturing plant and TrailersPlus in Kingman, Arizona donated a trailer at a reduced cost to the Kingman Young Marines.
The Kingman Young Marines plan to use this trailer to help with their travel and storage. Terry Flanagan, executive officer of the Kingman Young Marines, said "the trailer can be used to store items like uniforms, flags, tents, and cooking gear. The trailer can also travel across the state with the group of 20."
Because renting a storage unit and traveling is expensive, an affordable trailer provided a solution to use for the years to come. The Kingman Young Marines gave Jack Freeman, Store Manager at TrailersPlus Kingman, a plaque to thank TrailersPlus for the donation.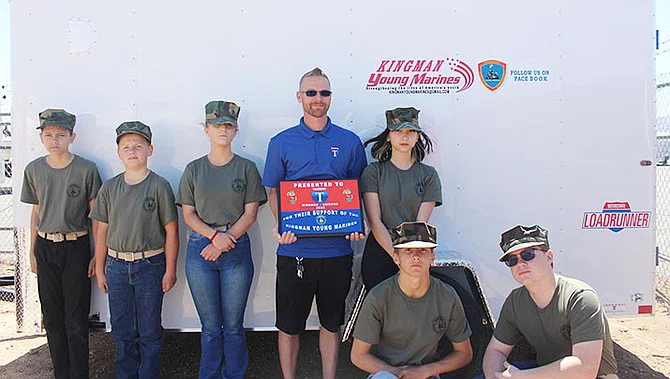 TrailersPlus frequently gives back to its local communities. Because the cost of the trailer wasn't within the Kingman Young Marines' reach, TrailersPlus was able to provide a partial donation to get them the trailer they needed.
TrailersPlus and Interstate strive to provide great jobs to their communities. Veteran-friendly, TrailersPlus and Interstate have entry-level positions open. "It's important for the company to make community members aware of their business to attract graduates or those moving to the area in need of a job", said Jack Freeman.
TrailersPlus and Interstate hire ages 18 and older, and they work with new employees to find the best part of the production plant that fits their background.
Jack Freeman explained, "I am pleased to be assigned to this project to help the Kingman Young Marines obtain a trailer that would make their day-to-day operations easier. These acts of kindness are some of the things I look forward to at work. It's incredibly exciting."
The Kingman Young Marines are about teamwork, leadership and discipline. "Regardless of their path after graduation, whether it be work, school or the military, they will have the strength to do it," said Terry Flanagan.
Interstate and TrailersPlus are always hiring. If you are interested in starting a career where growth and development are endless, then apply today! More information on open positions can be found at https://www.trailersplus.com/careers/.
Do you have any trailer questions?
Please call us at 877-850-7587 to discuss!