Alabama

Arizona

Kingman, AZ

Phoenix, AZ

Tucson, AZ

Arkansas

Conway, AR

West Memphis, AR

California

Bakersfield, CA

Fillmore, CA

Fresno, CA

Gilroy, CA

Lakeside, CA

Live Oak, CA

Lodi, CA

Petaluma, CA

Redlands, CA

Santa Maria, CA

Colorado

Colorado Springs, CO

Denver, CO

Fort Collins, CO

Grand Junction, CO

Florida

Georgia

Idaho

Idaho Falls, ID

Nampa, ID

Post Falls, ID

Twin Falls, ID

Indiana

Iowa

Kansas

Kentucky

Louisiana

Minnesota

Missouri

Blue Springs, MO

Saint Louis, MO

Springfield, MO

Montana

Nebraska

Nevada

New Mexico

North Carolina

Ohio

Akron, OH

Cincinnati, OH

Columbus, OH

Oklahoma

Oklahoma City, OK

Tulsa, OK

Oregon

Eugene, OR

Medford, OR

Pendleton, OR

Portland, OR

Redmond, OR

Salem, OR

Pennsylvania

Hershey, PA

Morgantown, PA

Pittsburgh North, PA

Tennessee

Bristol, TN

Chattanooga, TN

Lebanon, TN

Texas

Beaumont, TX

College Station, TX

El Paso, TX

Ft Worth, TX

Houston, TX

Killeen, TX

San Marcos, TX

Utah

Virginia

Norfolk, VA

Roanoke, VA

Warrenton, VA

Washington

Chehalis, WA

Marysville, WA

Tacoma, WA

West Virginia

Wisconsin

Appleton, WI

Milwaukee, WI

Wyoming
Like the vehicle you drive, the trailer you tow needs routine service and the occasional repair to continue to operate safely and effectively. Drivers around Morgantown, West Virginia, who need service for their units can visit the local TrailersPlus service center.
Our service center will help you get the service you need and get back on the road so you can focus on where you're headed next.
Trailer Service Center
Our service center is dedicated to caring for Interstate and Carry-On trailers, whether they're equipment models, dump units, or enclosed cargo models. Our factory-certified and trained technicians can tackle your model's needs, whether it needs routine service, like brake adjustment or repairs, including electrical or suspension repair services.
If you're unsure what service or repairs your model needs, our team can help. We will take a look at your model and recommend any repairs or maintenance that we see your trailer may need. Should your unit need repairs, we'll let you know what to expect and do our best to get your unit back on the road as quickly as possible. Our team can also provide an estimate so you know what to expect cost-wise for maintenance or repairs.
Trailer Inspections
To help keep your model safe and up to date on maintenance, our service team recommends that you get inspections every 12 months. We'll perform a 40-point inspection covering every aspect of your unit to check for needed repairs before they become larger problems. Regular inspections ultimately save you time and money throughout its life.
Each purchased trailer comes with two free certified inspections to help those with newly purchased models begin the maintenance routine with ease. If you have questions about these inspections, reach out to our service team.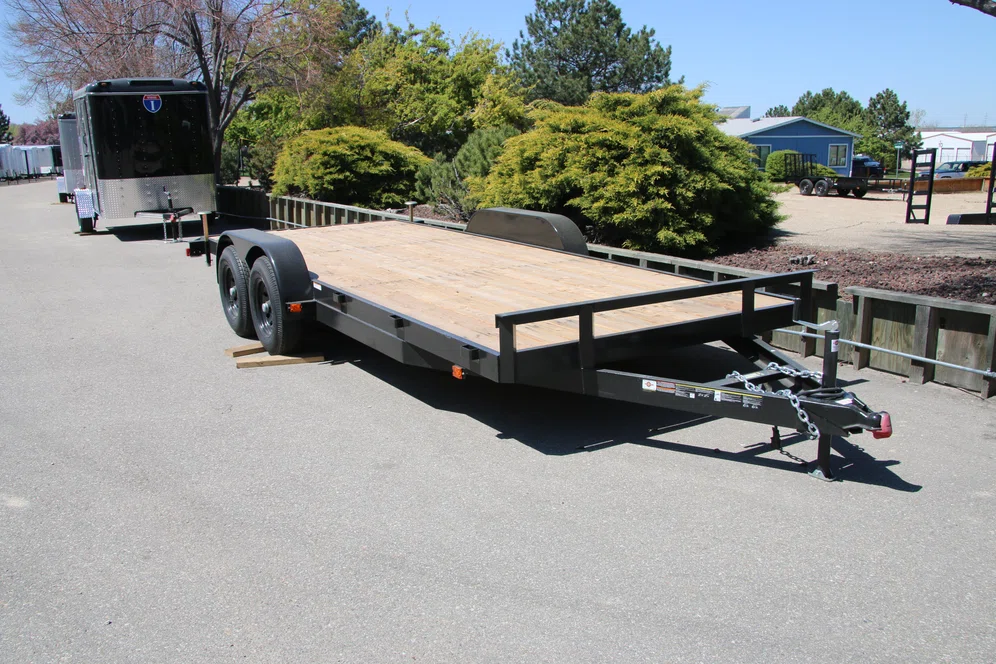 Parts and Accessories
Our technicians use high-quality parts to service the trailers at our service center from manufacturers like Interstate and Carry-On. These parts ensure that we provide high-quality maintenance and repairs for your model.
Are you interested in customizing your unit permanently or for a specific job? You can shop for all the parts and accessories you need with us. We offer parts shopping either in person or online. If you schedule an appointment, a member of our service team can help you select the parts that work for your model and schedule installation at our service center.
Parts and accessories available in person or online include:
● Cargo Management Systems
● Receivers
● Tie-Downs
● Ball Mounts
Parts financing options are also available if you are interested in a loan for the customization of your trailer. Speak to our team or explore all your options online.
Schedule Trailer Service near Morgantown WV Today
If your trailer requires maintenance or repairs, schedule service at the TrailersPlus near Morgantown, WV. You can schedule service online or contact our service center by phone. Once you arrive, our team will let you know more about the services your model needs and get started. We'll ensure that your trailer is ready to hit the road again for work or play.
Schedule service today.
Do you have any trailer questions?
Please call us at 877-850-7587 to discuss!