Alabama

Arizona

Kingman, AZ

Phoenix, AZ

Tucson, AZ

Arkansas

Conway, AR

West Memphis, AR

California

Bakersfield, CA

Fillmore, CA

Fresno, CA

Gilroy, CA

Lakeside, CA

Live Oak, CA

Lodi, CA

Petaluma, CA

Redlands, CA

Santa Maria, CA

Colorado

Colorado Springs, CO

Denver, CO

Fort Collins, CO

Grand Junction, CO

Florida

Georgia

Idaho

Idaho Falls, ID

Lewiston, ID

Nampa, ID

Post Falls, ID

Twin Falls, ID

Indiana

Indianapolis, IN

Mooresville, IN

Iowa

Kansas

Kentucky

Louisiana

Minnesota

Missouri

Blue Springs, MO

Saint Louis, MO

Springfield, MO

Montana

Nebraska

Nevada

New Mexico

North Carolina

Ohio

Akron, OH

Cincinnati, OH

Columbus, OH

Oklahoma

Oklahoma City, OK

Tulsa, OK

Oregon

Eugene, OR

Medford, OR

Pendleton, OR

Portland, OR

Redmond, OR

Salem, OR

Pennsylvania

Hershey, PA

Morgantown, PA

Pittsburgh North, PA

Tennessee

Bristol, TN

Chattanooga, TN

Lebanon, TN

Texas

Beaumont, TX

College Station, TX

El Paso, TX

Ft Worth, TX

Houston, TX

Killeen, TX

San Marcos, TX

Utah

Virginia

Norfolk, VA

Roanoke, VA

Warrenton, VA

Washington

Chehalis, WA

Marysville, WA

Tacoma, WA

West Virginia

Wisconsin

Appleton, WI

Milwaukee, WI

Wyoming
The right trailer can help you achieve all your towing or hauling needs wherever you go. If you're wondering about the differences between a single-axle vs. dual-axle trailer, the team at TrailersPlus is here to answer your questions.
Read on to learn more about their capabilities and what they can do for you. We can help you find the right one for your needs!
Single-Axle Trailers
As the name suggests, a single-axle trailer includes a single axle with a wheel on each end. The axle is designed to support the weight of your trailer and help you easily navigate the road ahead.
What Are the Pros of Single Axle Trailers?
If you're considering a single-axle trailer, there are many pros to look forward to, including:
Improved fuel economy
Easier maneuverability
Manageable maintenance schedule
With their smaller size, single-axle trailers are an excellent solution for everyday hauling needs, whether you're at the worksite or taking the family camping in the summertime. The single axle also makes for seamless maneuverability as you travel.
What Are the Cons of Single-Axle Trailers?
Along with the positive aspects, it's important to note a few of the potential cons that come with single-axle trailers:
Less weight capacity
Less stability without suspension
Greater wear and tear
If you're hauling a heavier load over a longer period of time, you may find the capacities of single-axle trailers to be a bit restrictive.
Dual-Axle Trailers
Dual-axle trailers use two axles and two sets of wheels to support it. For those who need to transport multiple heavy items, this one is a great choice. Dual-axle trailers are also referred to as tandem trailers.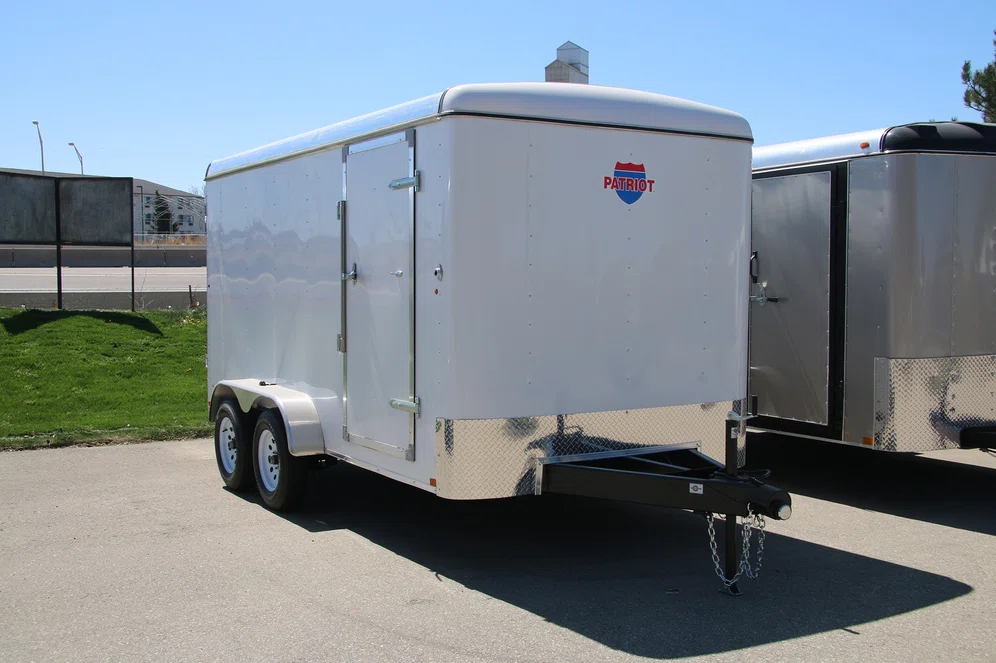 What Are the Pros of Dual-Axle Trailers?
With an extra set of wheels and a longer length, dual-axle trailers provide several benefits, including:
Strong weight distribution
Reliable braking system
Fewer issues with tires
Having two axles helps distribute the weight of the trailer more productively, leading to fewer tire issues or wear and tear. The built-in brake system also provides peace of mind on the road.
What Are the Cons of Dual-Axle Trailers?
While dual-axle trailers can hold an impressive amount of weight, there are some cons to be aware of, such as:
Higher fuel usage
More maintenance needs
Less maneuverability
Choose the Right Axle Trailer for You
Now that you know more about the differences between single-axle vs. dual-axle trailers, which is best for you? To determine which one to choose, it's important to think about your specific needs, such as load size and how far you need to travel.
As you consider your options, we have an expert ready to assist you at TrailersPlus. Explore our online inventory and reserve your next single-axle or dual-axle trailer today!
Learn more about trailer financing!