What is the difference between E-Z Lube and Buddy Bearings? Read below to understand design differences and how to properly grease each.


E-Z Lube Bearings
Typically, axles with E-Z Lube Bearings come equipped with a metal dust cap that protects your bearings from dirt, water, and other elements. The rubberized dust plug in the center of the metal cap allows for easy access to your zerk fitting and E-Z lubrication system within the axle.
Located at the end of the axle spindle is a zerk fitting. This allows you to lubricate the inner and outer bearings by having a pathway from the zerk on the end of the axle to the inner bearing. When grease is pumped in the zerk, it is pushed through the inner pathway of the spindle to reach the inner bearing first. This causes the existing grease to be pushed toward the outer bearing and into the dust cap.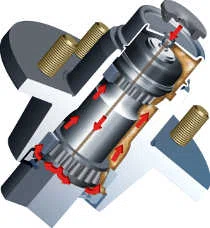 Buddy Bearings
Buddy Bearings typically have a similar looking dust cap to an E-Z Lube system. However, the design is different in that the Buddy Bearing's dust cap sticks out more than that in the E-Z Lube system because of a larger grease reservoir within the dust cap. In the center of the dust cap's reservoir wall is a zerk fitting that lets grease be added to the reservoir. This allows new grease to be added to the hubs where the outer bearings is, all without having to remove the hub.
What If You Don't Have Buddy Bearings or E-Z Lube Bearings?
In this case, in order to grease or service your bearings you may need to remove the hub completely. First check your axle because some are already equipped with the pathway to the inner bearings by having a spot threaded for a zerk. All you need to do is thread in a greased zerk to the end of the spindle and add dust caps.
Remember that these different types of axle systems are meant to make servicing your trailer bearings easier. Regardless of the system you have, you should still be maintaining and servicing your bearings as required by your specific axle manufacturer. If your trailer sits for an extended period of time, you'll want to repack your bearings before rolling down the road. If you ever need help or have questions pertaining to bearings or would like to schedule service, please give a trailer expert a call today.
Do you have any trailer questions?
Please call us at 877-850-7587 to discuss!