Alabama

Arizona

Kingman, AZ

Phoenix, AZ

Tucson, AZ

Arkansas

Conway, AR

West Memphis, AR

California

Bakersfield, CA

Fillmore, CA

Fresno, CA

Gilroy, CA

Lakeside, CA

Live Oak, CA

Lodi, CA

Petaluma, CA

Redlands, CA

Santa Maria, CA

Colorado

Colorado Springs, CO

Denver, CO

Fort Collins, CO

Grand Junction, CO

Florida

Georgia

Idaho

Idaho Falls, ID

Nampa, ID

Post Falls, ID

Twin Falls, ID

Indiana

Iowa

Kansas

Kentucky

Louisiana

Minnesota

Missouri

Blue Springs, MO

Saint Louis, MO

Springfield, MO

Montana

Nebraska

Nevada

New Mexico

North Carolina

Ohio

Akron, OH

Cincinnati, OH

Columbus, OH

Oklahoma

Oklahoma City, OK

Tulsa, OK

Oregon

Eugene, OR

Medford, OR

Pendleton, OR

Portland, OR

Redmond, OR

Salem, OR

Pennsylvania

Hershey, PA

Morgantown, PA

Pittsburgh North, PA

Tennessee

Bristol, TN

Chattanooga, TN

Lebanon, TN

Texas

Beaumont, TX

College Station, TX

El Paso, TX

Ft Worth, TX

Houston, TX

Killeen, TX

San Marcos, TX

Utah

Virginia

Norfolk, VA

Roanoke, VA

Warrenton, VA

Washington

Chehalis, WA

Marysville, WA

Tacoma, WA

West Virginia

Wisconsin

Appleton, WI

Milwaukee, WI

Wyoming
Dump trailers are excellent for a variety of purposes on worksites, from roofing to construction. If you're searching for one near Nampa, Idaho, the local TrailersPlus has a plethora of options to choose from.
Our team can help you find, purchase, and service a dump trailer so that it performs exactly as you need it to for its entire life.
Nampa ID Inventory
We stock models from Carry-On and Interstate. You can explore our entire inventory on-site or on our website. Our website is updated every 15 minutes, so you have an accurate view of our current inventory.
If you know what features you need for your dump trailer, take advantage of our search filters, such as:
● Width
● Length
● Type of hitch
Many units include additional features, like Dexter spring axles, a hydraulic unit in a sealed steel compartment, and ramps. If you find a model on our website that you'd like to see in person and purchase, click the reserve button and schedule an appointment.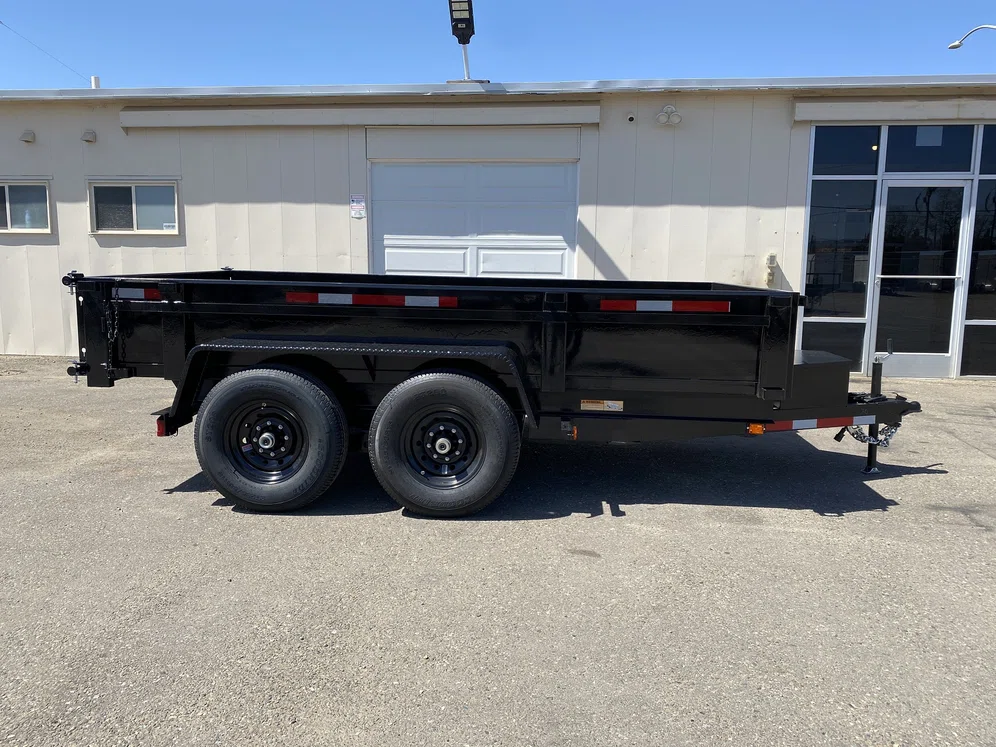 Finance or Purchase Your Dump Trailer
If you need to finance your dump trailer, our financing experts can craft a payment plan that works for you in coordination with lenders, such as Sheffield Financial and RockSolid Funding. We'll walk you through the financing process, so you can focus on using your dump trailer.
Loan options from us allow you to pay off your loan early and often come with low-interest rates. Begin the financing process by applying for financing online or visiting our finance center to apply in person.
We also accept credit and cash payments.
Dump Trailer Maintenance and Repair
Like vehicles, dump trailers require maintenance and repairs to perform to their full potential. We have a service center staffed with factory-trained technicians who focus on maintaining and repairing many types of trailers. Our technicians specialize in services, such as:
● Brake Adjustments
● Dump Tarp Installations
● Bearing Replacements
Our service center also stocks a set of trailer parts and accessories on-site that you can purchase. We have ball mounts, tongue boxes, e-track, lights, and more.
Scheduling service is a simple process. Contact us by phone or schedule using our online scheduling tool. Our technicians can also provide an estimate for repairs if you need one.
Shop for Your Dump Trailer near Nampa, ID, Today
Whether you're shopping for a gooseneck dump trailer or a 7-foot-wide model, our team can help you find one that meets your needs.
You can explore our inventory around Nampa, ID, on our website. When you find a dump trailer you're interested in, reserve it for three days and schedule an in-person appointment with one of our experts!
Do you have any trailer questions?
Please call us at 877-850-7587 to discuss!