Alabama

Arizona

Kingman, AZ

Phoenix, AZ

Tucson, AZ

Arkansas

Conway, AR

West Memphis, AR

California

Bakersfield, CA

Fillmore, CA

Fresno, CA

Gilroy, CA

Lakeside, CA

Live Oak, CA

Lodi, CA

Petaluma, CA

Redlands, CA

Santa Maria, CA

Colorado

Colorado Springs, CO

Denver, CO

Fort Collins, CO

Grand Junction, CO

Florida

Georgia

Idaho

Idaho Falls, ID

Nampa, ID

Post Falls, ID

Twin Falls, ID

Indiana

Iowa

Kansas

Kentucky

Louisiana

Minnesota

Missouri

Blue Springs, MO

Saint Louis, MO

Springfield, MO

Montana

Nebraska

Nevada

New Mexico

North Carolina

Ohio

Akron, OH

Cincinnati, OH

Columbus, OH

Oklahoma

Oklahoma City, OK

Tulsa, OK

Oregon

Eugene, OR

Medford, OR

Pendleton, OR

Portland, OR

Redmond, OR

Salem, OR

Pennsylvania

Hershey, PA

Morgantown, PA

Pittsburgh North, PA

Tennessee

Bristol, TN

Chattanooga, TN

Lebanon, TN

Texas

Beaumont, TX

College Station, TX

El Paso, TX

Ft Worth, TX

Houston, TX

Killeen, TX

San Marcos, TX

Utah

Virginia

Norfolk, VA

Roanoke, VA

Warrenton, VA

Washington

Chehalis, WA

Marysville, WA

Tacoma, WA

West Virginia

Wisconsin

Appleton, WI

Milwaukee, WI

Wyoming
So, you finally decided to trade in the old rust bucket that's been taking up garage space for a brand new vehicle. Like a kid straight from the toy store, you start daydreaming of the heavy loads that your new rig will be pulling with your trailer only to have those dreams shattered when you realize ---this new vehicle didn't come with a trailer brake controller.
From here, it looks like you've got 2 different options:
1) Purchase a trailer brake controller kit, hope that you have all the tools you need to install it, drill holes in your dash to mount the controller, run wires from your battery to the brake controller and then back to the trailer connector, make a couple of trips into town to pick up the pieces the manufacturer forgot to include, finish installing everything, and say a prayer that everything works the way it's supposed to on the first try.
-OR-
2) Purchase a Curt Echo brake controller, download the Curt app on your phone, plug it in, and get to hauling!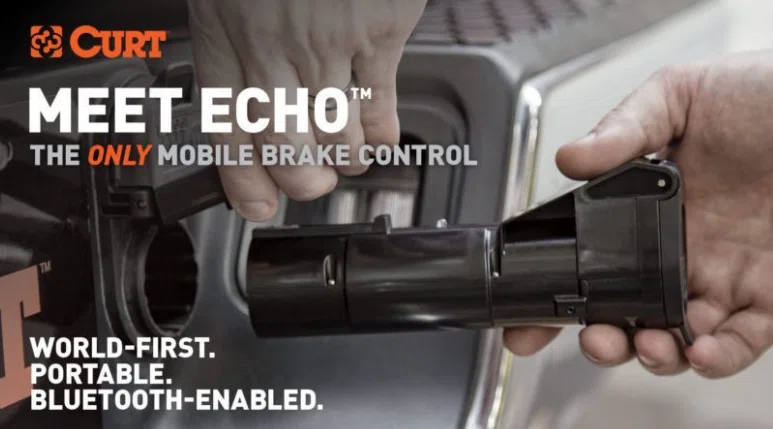 Setting up a trailer for towing can be a time consuming process. Luckily, it doesn't have to be with the Curt Echo: a bluetooth-enabled controller that wirelessly connects to your smartphone, turning your phone into a brake control interface. The compact unit plugs in line with your 7-way trailer connector with no complicated install and no bulky cab-mounted unit.
From the app, you can control both the max output and the sensitivity for any trailer with up to 2 axles.
Max output: This number scales from 0-100 in increments of 5 to control the maximum amount of power that will be applied to the trailer's brake pads. This number will depend on the size of the load and the vehicle's stopping ability.
Sensitivity: This number will control how quickly/aggressively the brake controller will apply the brakes. It is typically better for less sensitivity on lighter loads or even ground, while more sensitivity may be needed on heavier loads or while traveling on rough terrain.
You can also create multiple profiles on the app with their own unique settings, making switching to a different tow vehicle a seamless process.
The app will also alert you in the event that your trailer is overloaded or becomes disconnected during travel. Should your smart device ever lose connection, the Echo will default to the settings of the last profile used. So even if your phone battery dies, you can still count on getting proportional trailer braking as long as the unit is in use.
There's no need to worry about missing a call or running multiple apps either. The Echo Smart Control app will continue running in the background if you get a call or switch between apps, and it will not interfere with your vehicle's hands-free multimedia system.
Other Features:
Brake controller activates trailer brakes in proportion to your vehicle's braking action

Automatically adjusts trailer's braking based on deceleration of tow vehicle
Activates immediately - no pausing like with time-delayed brake controllers

A single LED on the body of the Echo shows the status of the brake control unit so that you can easily troubleshoot any problems that may arise
Dark or light app theme depending on user preference or time of day
Manual override to activate the trailer brakes whenever desired without applying the vehicle brakes
Weather resistant construction - built to withstand the elements
Compatible with ABS brakes, cruise control, low-voltage wiring, and pulse width modulation (PWM) systems

Built-in reverse polarity and short circuit protection

Assembled in the USA
Limited lifetime warranty
For the best use, we recommend regularly checking for updates on the app as Curt develops new features. It can also be helpful to use a mounted cell phone holder to keep the app accessible at all times and have full control over your brakes.
Do you have any trailer questions?
Please call us at 877-850-7587 to discuss!