Alabama

Arizona

Kingman, AZ

Phoenix, AZ

Tucson, AZ

Arkansas

Conway, AR

West Memphis, AR

California

Bakersfield, CA

Fillmore, CA

Fresno, CA

Gilroy, CA

Lakeside, CA

Live Oak, CA

Lodi, CA

Petaluma, CA

Redlands, CA

Santa Maria, CA

Colorado

Colorado Springs, CO

Denver, CO

Fort Collins, CO

Grand Junction, CO

Florida

Georgia

Idaho

Idaho Falls, ID

Lewiston, ID

Nampa, ID

Post Falls, ID

Twin Falls, ID

Indiana

Indianapolis, IN

Mooresville, IN

Iowa

Kansas

Kentucky

Louisiana

Minnesota

Missouri

Blue Springs, MO

Saint Louis, MO

Springfield, MO

Montana

Nebraska

Nevada

New Mexico

North Carolina

Ohio

Akron, OH

Cincinnati, OH

Columbus, OH

Oklahoma

Oklahoma City, OK

Tulsa, OK

Oregon

Eugene, OR

Medford, OR

Pendleton, OR

Portland, OR

Redmond, OR

Salem, OR

Pennsylvania

Hershey, PA

Morgantown, PA

Pittsburgh North, PA

Tennessee

Bristol, TN

Chattanooga, TN

Lebanon, TN

Texas

Beaumont, TX

College Station, TX

El Paso, TX

Ft Worth, TX

Houston, TX

Killeen, TX

San Marcos, TX

Utah

Virginia

Norfolk, VA

Roanoke, VA

Warrenton, VA

Washington

Chehalis, WA

Marysville, WA

Tacoma, WA

West Virginia

Wisconsin

Appleton, WI

Milwaukee, WI

Wyoming
While shopping at your local grocery store, browsing items online, or walking the lot at a car dealership, you may have noticed that the price tags don't look like they did a year ago. Prices have gone up across the board, and the trailer industry is no exception.
"So why are prices rising?"
Many different things can impact the price we pay for things. Because putting a trailer together is a process, any disruption to that process will affect the bottom line. Each link in the supply chain provides great value when things are running smoothly, however, in the wake of COVID-19, things have been far from smooth. These disruptions can take time to fix and, unfortunately, it is impossible to know how long the road to recovery may be.
The effects of the Pandemic are still being felt across the globe. In virtually every industry, there have been shocks with:
Suppliers dialing back production
Labor shortages
Changing consumer habits
Rising costs of materials (steel, lumber, aluminum)
Delays in global trade and shipping
Increased freight costs
And more
Our priority at Interstate and TrailersPlus has always been to provide the best quality trailers to our customers for the best price possible. We've done our best through everything going on to keep prices as low as possible, but it is impossible to ignore the fact that trailer prices have gone up.
To give a peek into the trailer industry, and for the sake of transparency, we want to share what we are seeing with our costs and how our company has been affected by the current state of the economy.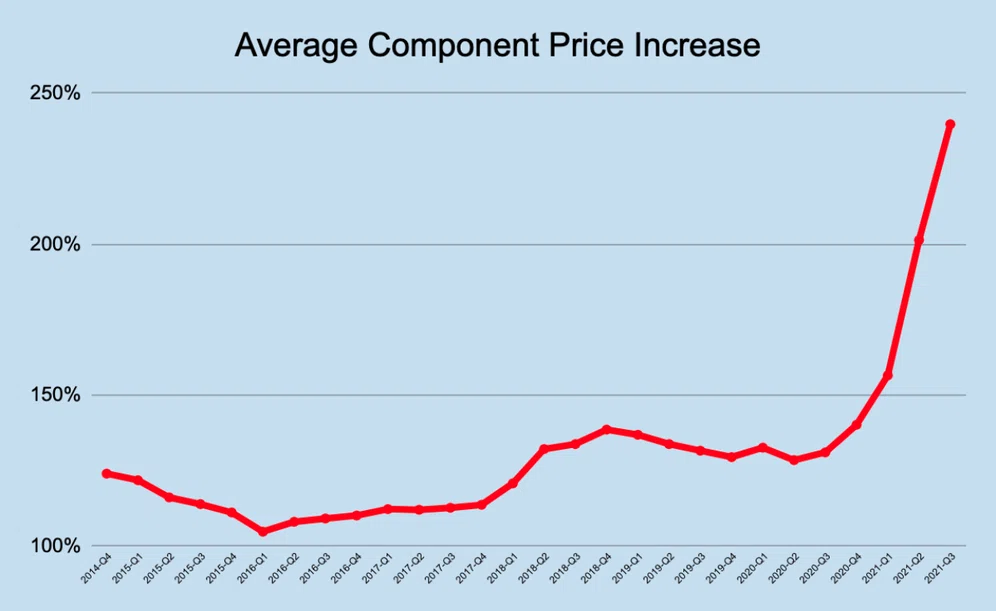 The above graph shows the average cost trends across our top 50 components in building trailers over the last 6 years. As you can see from the graph, we have seen significant increases since the beginning of 2020. On average, the cost for us to put together a trailer has gone up nearly 250% over the last 6 years, with some items even surpassing 400%. We do everything we can to keep prices low, but ultimately some of these increases are passed on to the customer.
"I still need a trailer - What can I do?"
The good news is, we still have trailers! And we'll still do our best to match you up with the trailer that best fits your specific needs. But the best fit available may mean that we have to make some substitutions with sizes, models, or colors. We encourage all of our customers: if you find something that works - DON'T WAIT! Prices are climbing and there is a good chance that the next customer to find your trailer won't hesitate to pull the trigger.
There is no way of knowing what kind of situation we will be in next year at this time. Waiting to buy poses a great risk that prices will continue to rise. We've heard from hundreds of customers who are kicking themselves for not purchasing the trailer they needed 6 months ago.
It can be a tough road ahead for many people whose lives have unexpectedly changed courses, but we want you to know that we're here to help. Whether it's inspections, service, or buying a new trailer, we want you to drive off our lot knowing that you made a great decision to shop with TrailersPlus.
Do you have any trailer questions?
Please call us at 877-850-7587 to discuss!