Alabama

Arizona

Kingman, AZ

Phoenix, AZ

Tucson, AZ

Arkansas

Conway, AR

West Memphis, AR

California

Bakersfield, CA

Fillmore, CA

Fresno, CA

Gilroy, CA

Lakeside, CA

Live Oak, CA

Lodi, CA

Petaluma, CA

Redlands, CA

Santa Maria, CA

Colorado

Colorado Springs, CO

Denver, CO

Fort Collins, CO

Grand Junction, CO

Florida

Georgia

Idaho

Idaho Falls, ID

Nampa, ID

Post Falls, ID

Twin Falls, ID

Indiana

Iowa

Kansas

Kentucky

Louisiana

Minnesota

Missouri

Blue Springs, MO

Saint Louis, MO

Springfield, MO

Montana

Nebraska

Nevada

New Mexico

North Carolina

Ohio

Akron, OH

Cincinnati, OH

Columbus, OH

Oklahoma

Oklahoma City, OK

Tulsa, OK

Oregon

Eugene, OR

Medford, OR

Pendleton, OR

Portland, OR

Redmond, OR

Salem, OR

Pennsylvania

Hershey, PA

Morgantown, PA

Pittsburgh North, PA

Tennessee

Bristol, TN

Chattanooga, TN

Lebanon, TN

Texas

Beaumont, TX

College Station, TX

El Paso, TX

Ft Worth, TX

Houston, TX

Killeen, TX

San Marcos, TX

Utah

Virginia

Norfolk, VA

Roanoke, VA

Warrenton, VA

Washington

Chehalis, WA

Marysville, WA

Tacoma, WA

West Virginia

Wisconsin

Appleton, WI

Milwaukee, WI

Wyoming
Purchasing a trailer is a big decision, but it's often a necessary one for many businesses. If you need one now to complete the job at hand, then you may enjoy several benefits from financing.
At TrailersPlus, we work with individuals and businesses daily to help them finance one or several of our 8,000+ trailers available at locations across the country. Overall, we've found that most people experience four major benefits of financing a trailer.
1. Spread Payments Out Over Time
When you need to add a trailer to your fleet, you don't always have time to save for one. Financing can allow you to get the equipment you need when you need it, without maxing out a company credit card. Instead of purchasing with one lump sum, financing allows you to spread the payments out over time.
As you start to experience a return on your investment, you may even be able to pay off your loan early. Our financing plans don't carry a penalty for early payoff.
2. Benefit From Lower Interest Rates Than Credit Cards
Putting your purchase on a credit card is one way to take home a trailer if you don't have the full amount handy. However, credit cards often have high interest rates, typically in the 20% to 30% range. Paying down a credit card balance often results in paying much more over time through interest alone.
On the other hand, we offer multiple financing options, with interest rates as low as 7.99%. When compared to using a credit card, financing a trailer can save you hundreds of dollars in interest payments.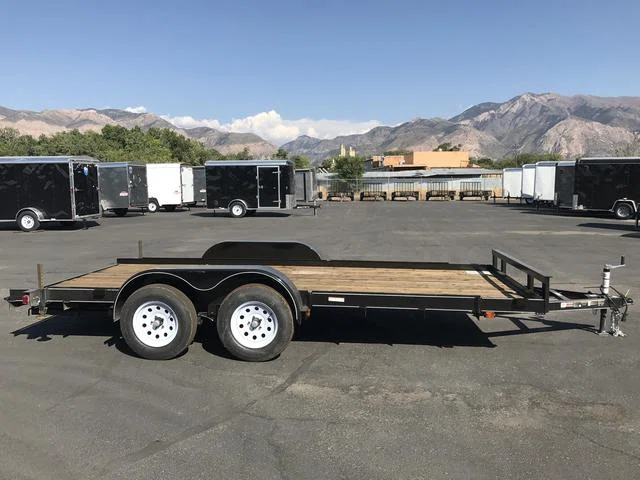 3. Build Credit by Making On-Time Payments
If your business needs to build or improve its credit score, financing a large purchase like a trailer can be a good way to do so. We have financing options for buyers with all credit scores, and we'll work with you to help you qualify.
Over time, as you make on-time loan payments, you'll be building your credit score while also benefiting from the use of the trailer.
4. Scale Your Business Faster by Financing a Fleet
Typically, businesses don't need just one trailer. You likely need a whole fleet of them. Instead of just purchasing one, trailer financing allows you to equip your team with a fleet of cargo, equipment, or dump trailers and help your business scale at the rate you want it to. With flexible payment plan options, you can make payments over time or even pay off the loan early as your business grows.
Where Can I Finance a Trailer near Me?
Are you ready to purchase a trailer, or a fleet of them, for your business? TrailersPlus can help make it happen. We offer multiple financing options for buyers with all kinds of credit scores. We work closely with trusted lenders and can help you secure same-day financing, so you can put your new trailers to work.
Book an appointment at our TrailersPlus dealer near you and start benefitting from financing today!
Learn more about trailer financing!